VISIT GALWAY CITY, CONNEMARA AND HIKE DIAMOND HILL AT CONNEMARA NATIONAL PARK IN ONE DAY
Dublin to Galway City, Connemara National Park and Diamond Hill Full Day Tour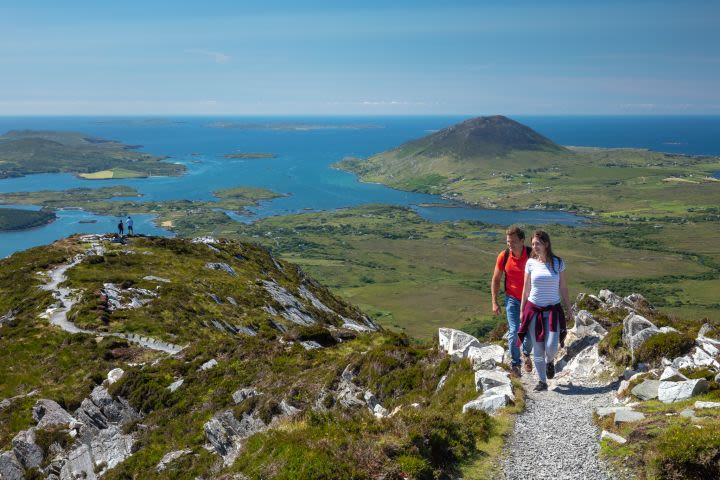 TOUR DESCRIPTION
06:45am - Depart from Dublin from the stop right outside the CityLink Dublin Office at:
4 Crampton Quay,
Temple Bar,
Dublin, D02 X434
Between the O'Connell Bridge and the Ha'penny Bridge outside the Forbidden Planet comic store and Eden Recruitment. (MAP)
09:15am - Arrive in Galway City
09:30am - Depart to Connemara, Diamond hill and the National park
05:30pm - Return to Galway City
06:15pm - Departure from Galway
08:45pm - Arrive back in Dublin
Explore the heart of the Gaeltacht (Irish-Speaking) region of Ireland. Travel through Ireland's most untouched, rugged landscape blanketed in majestic mountains, expansive lakes, golden beaches and breathtaking valleys.
This tour takes a look into traditional way of life on the West coast of the Emerald Isle along with the history that has shaped the region. Be prepared to learn a bit of the Irish language and to hear a few tales of the local residents.
48 Hour Free Cancellation
Return Bus Transfer - Dublin to Galway
2 Hours Hike at Diamond Hill
Guided Day Tour
USB Charging Sockets Onboard
Important Information
How much time do we get to hike?
You will have 2 hours of free time to hike Diamond Hill at Connemara National Park.
Is it a guided hike?
No, you are free to enjoy the hike on your own.
Is 2 hours enough?
There are 3 x routes: 1 x Short, 1 x Medium, 1 x Long (to the peak of Diamond Hill). It is possible to reach the peak and back down in 2 hours if you have a good pace and only make brief stops. Please be realistic with your ability and speed, don't push yourself too hard and make sure to allow time to have a bite to eat. Please make sure to keep an eye on the time - If you are not back within 2 hours, the driver will have to continue the tour without you, and you will have to arrange alternative transport back to Galway. There is a local / public service bus that passes near the national park.
What happens if I'm not back in time?
Please make sure to keep an eye on the time - If you are not back within 2 hours, the driver will have to continue the tour without you, and you will have to arrange alternative transport back to Galway (not included in ticket price). There is a local / public service bus that passes near the national park.
Is there a stop for lunch or should I pack a lunch?
Our first main stop is in Leenane village where we will have a short 20/30 minute stop, you will have the opportunity to get something small to eat here. When you visit the National Park, there is a cafe on site there, but you will be dropped off near the village of Letterfrack where you can also pick up some food to bring with you for the hike. Quite a lot of our hikers for Diamond Hill do bring a packed lunch with them so they can spend more time hiking, and make a stop for lunch when they feel like it along their way up to the peak.
Are there toilets on the bus?
For your Dublin to Galway return transfers there are toilets on the bus. There are toilets on your day tour bus during the Summer season only, but don't worry, we make plenty of rest and toilet breaks.
What should I bring with me?
A camera – You'll see many beautiful landscapes and iconic Irish sights, so many guests bring their own camera
Comfortable Shoes – On each of our tours, we make stops that can require lengthy walks. Make sure you wear comfortable shoes so you don't miss out on Ireland's hidden gems!
Weatherproof clothing – If the forecast is showing anything other than 100% sunshine, you should probably bring a rain jacket. All of our vehicles have air-conditioning, but in the winter months it is advised to bring a scarf and/or gloves to keep you warm and snug when you're outside in the elements.
A phone charger - this is going to be a jam-packed day, especially if you opt to spend a little longer in Galway, so it'll be a good idea to bring a phone charger
MORE INFORMATION
Connemara Day Tour Highlights
A full day, guided tour of Connemara, an area famed for it's unspoiled natural beauty and rugged landscapes. As you travel from Galway, listen to your expert driver/guide share the origin of the Irish language and how it is still the native language of Connemara, despite its diminishing status in the rest of Ireland. Exit the coach to visit iconic Irish landmarks independently and discover rivers and lakes that flow off The Twelve Pins Mountain Range to naturally shape this majestic region. You'll surely see reasons why Hollywood directors chose Connemara as backdrops to movies such as The Field (Written by John B. Keane, starring Richard Harris and John Hurt) and most recently, Marley & Me (Starring Owen Wilson and Jennifer Aniston).
Featured Stops
Leenane Village
This tiny mountain-side village is simply bursting with colorful Irish charm and overflowing with everchanging scenery. Some guests will choose to stroll out along the edges of Killary Fjord, while others will opt for an Irish Coffee or Hot Whiskey in one of the local bars. Length of stay approx. 30 minutes
Connemara National Park & Diamond Hill
As part of the Galway to Connemara National Park and Diamond Hill Full Day Tour, you have the opportunity to spend 2 Hours at the Connemara National Park at Diamond Hill.
There are three routes to choose from, each varying in length and difficulty. There is no additional charge to enter the National Park, and there are tea rooms on site for coffee and light snacks. Please be aware that the bus and driver cannot wait any longer than the allotted 2 hour duration, so please plan your visit cautiously. Length of stay approx. 2 hours
Killary Fjord Overlook
Ireland's only fjord serves the natural border between counties Galway and Mayo. This breathtaking vista helps tell the story of millions of years of natural geographical evolution, while also doubling as a featured photo stop. Length of stay approx 10 minutes
An Spidéal
The second half of our tour takes the Wild Atlantic Way coastal drive along South Connemara, but not without a stop at one our absolute favorite seaside villages. An Spidéal is a "gaeltacht" town where the Irish (Gaelic) language is spoken as a first language and where many Irish cultural traditionals still thrive these days. Here we get a sample of these traditions, experience a taste of sea-side living in Ireland and (if you choose to dare) dip your toes in the Atlantic Ocean.