ONE-WAY AND RETURN TICKETS AVAILABLE
Galway-Rossaveal Bus Service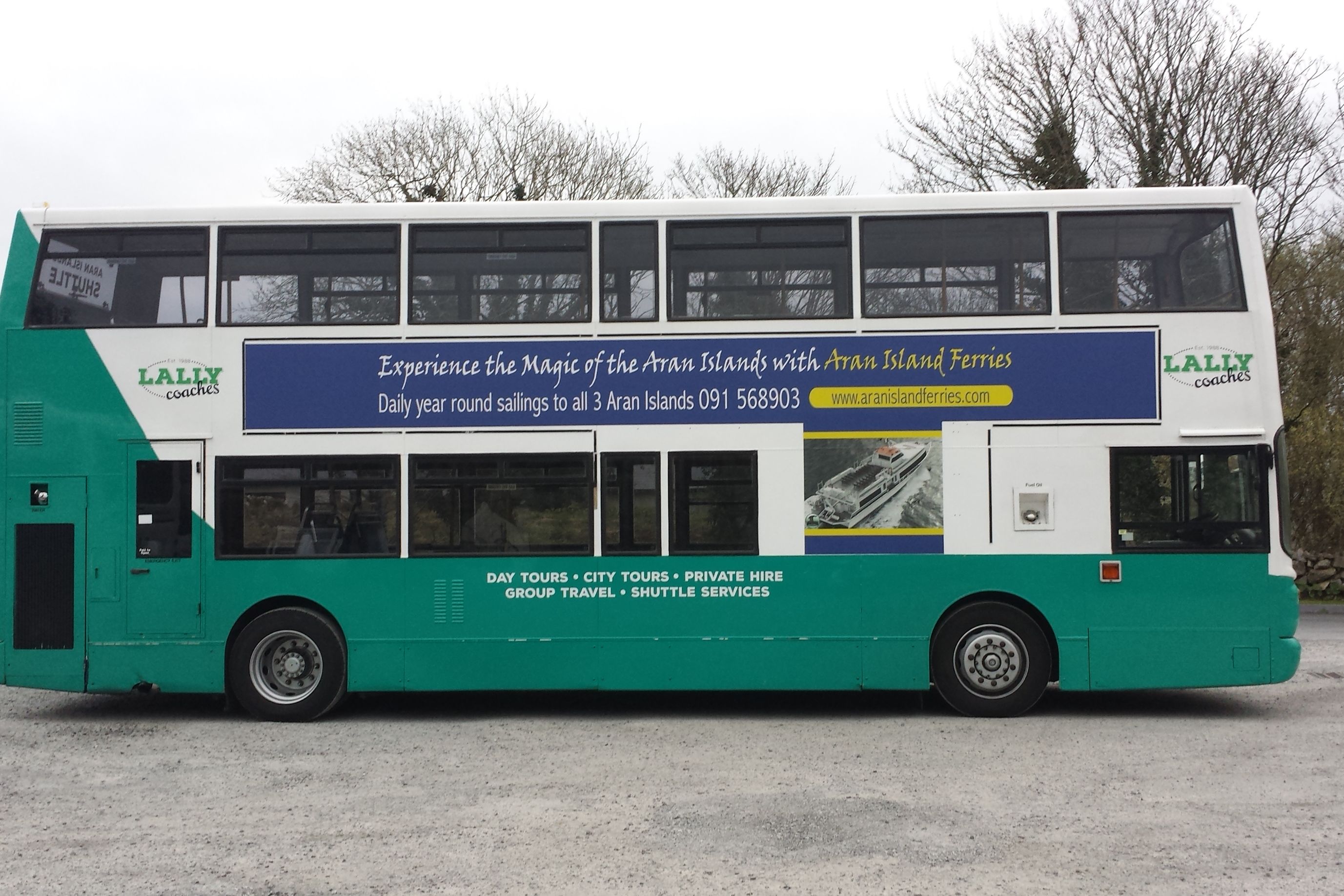 TOUR DESCRIPTION
The Lally Coaches Galway to Rossaveal Bus Service is a frequent and year-round service which also links Galway City to South Connemara and also connects with the ferries to the Aran Islands.
Please note that this timetable is for general information only and certain times operate on a seasonal basis.
One Way and Return Tickets can be purchased on board from the bus driver.
MORE INFORMATION
Timetable
Galway to Rossaveal
Queen Street
09:30
12:00
17:15
Spanish Arch
09:35
12:05
17:20
Salthill Aquarium
09:38
12:08
17:23
Salthill Hotel
09:40
12:10
17:25
Cashelmara
09:45
12:15
17:30
Barna Village
09:48
12:18
17:33
Connemara Coast Hotel
09:55
12:25
17:40
Spiddal Village
10:05
12:35
17:50
Inverin Post Office
10:08
12:38
17:53
Inverin Telegael
10:13
12:43
17:58
Rossaveal Harbour
10:20
12:50
18:05
Rossaveal to Galway
Rossaveal Harbour
09:00
13:00
18:00
19:45
Inverin Telegael
09:08
13:08
18:08
19:53
Inverin Post Office
09:11
13:11
18:11
19:58
Spiddal Village
09:16
13:16
18:16
20:03
Connemara Coast Hotel
09:26
13:26
18:26
20:13
Barna Village
09:33
13:33
18:33
20:20
Cashelmara
09:38
13:38
18:38
20:25
Salthill Hotel
09:45
13:45
18:45
20:32
Salthill Aquarium
09:50
13:50
18:50
20:37
Spanish Arch
09:55
13:55
18:55
20:42
Queen Street
10:00
14:00
19:00
20:50