Connemara Day Tour Highlights
This full day, guided tour has been designed to showcase the best of the west of Ireland, providing an immersive experience that encapsulates the essence of this enchanting region. As you travel from Galway City, listen to your expert driver/guide share the origin of the Irish language and how it is still the native language of Connemara, despite its diminishing status in the rest of Ireland.
From the rugged beauty of the 12 Bens Mountain Range to the serenity of Connemara's lakes, from encounters with native Connemara Ponies and sheep to the charm of traditional thatched cottages, every moment is an invitation to savour the authentic rural beauty of Ireland.
Delving deeper into Connemara, the tour unveils the awe-inspiring Kylemore Abbey and its historic estate, allowing you to step back in time. As you venture into Irish-speaking rural areas, you'll gain a genuine sense of the nation's linguistic and cultural heritage.
This tour is a perfect choice for anyone seeking to experience an authentic and immersive experience of Ireland's diverse landscapes and fascinating heritage.
Galway City Center - Tour Departure
This tour departs at 10:00 am sharp from the centre of Galway City, on Foster Street just outside the Hyde Hotel. We encourage guests to arrive at least 15 minutes before departure to ensure a smooth start to the day's exploration. Guests staying in Galway City or suburbs can avail of our pick-up service. See check out section for more details.
Immerse in Irish Culture and History
Gain a deeper understanding of Ireland's cultural heritage, folklore, and history, through our expert local tour guides. The tour presents ample opportunities to experience the 'Craic' – the unique spirit of Irish fun and conviviality. As your guide shares stories and traditions passed down through generations, you'll uncover customs, traditions, and geographical nuances that define this island nation's exceptional character.
Captivating Photo Stops Throughtout The Day
Throughout the day tour, the bus will stop on numerous occasions for some captivating photo stops, allowing guests to get some shots of the scenic beauty of the Connemara region. From the charming Oughterard to the majestic River Corrib, the awe-inspiring 12 Bens Mountain Range, and the iconic Maam Cross, your camera will be your trusted companion. Or, keep it old school, and use these stops as an opportunity to really soak in this beautiful part of Ireland; device free.
Oughterard - River-Side Village
The tour heads north-west, leaving the city behind and passes through commuter villages such as Moycullen and Roscahill, reaching Oughterard, where you'll be treated to stunning views of the River Corrib and picturesque thatched roof historic cottages, setting the stage for a day of immersion into the beauty of Connemara.
Conemara Ponies and Native Wildlife
As you journey through Connemara, you'll have the privilege of encountering Connemara Ponies, a beloved native breed of horse. It's very likely you'll come across some wild Connemara Mountain Sheep during the tour. They freely graze in the region and might even cross your path during the tour. There's no need to be alarmed; these curious creatures are a cherished part of Connemara's landscape. Keep an eye out for some typical Irish Cattle breeds such as Charolais, Angus, Belgian Blue, and Hereford cows, and you'll be utterly amazed by how slow they moooove.
Step Back in Time - Immerse Yourself In Ireland's Past
Continuing on this picturesque route, you'll chance upon stone ruins of homesteads from eras long past, serving as poignant reminders of Ireland's rich history. These ancient ruins, combined with the scenic beauty, create a profound connection to Ireland's past, where history and nature entwine in a captivating tale.
Maam Cross - The Connemara Cross Roads
At Maam Cross, a pivotal crossroads in the heart of Connemara, the tour takes a right turn, unveiling a gateway to the past with its preserved old railway tracks, offering a glimpse into Ireland's transportation history. . The tour progresses towards Recess, the gateway to the mesmerising landscapes of Joyce Country, where you're greeted by the serene beauty of Connemara's shimmering loughs and the majestic 12 Bens mountain range.
Romantic Film Locations
What sets this tour apart is the opportunity to delve deeper into 'the real Ireland.' You'll visit iconic film locations featured in renowned movies. You'll surely see reasons why Hollywood directors chose Connemara as backdrops to movies such as The Field (Written by John B. Keane, starring Richard Harris and John Hurt) and most recently, Marley & Me (Starring Owen Wilson and Jennifer Aniston). This fascinating glimpse into the film history of the region adds an extra layer of enchantment to the tour.
Stop at Leenane Village - Coffee Time!
The tour then leads to Leanne Village, a secluded and scenic haven. Here, you'll have the opportunity to pause for a coffee, and our driver will recommend the best places to enjoy a snack and a coffee. A particular favourite among our guests is the Sheep and Wool Centre in Leanne, offering a unique experience and the chance to take home traditional Irish woollen souvenirs.
Killary Fjord - Stunning View Point
The tour continues alongside beautiful lakes, leading to the Killary Fjord lookout, where you'll enjoy one of Ireland's most stunning fjord landscapes. Along the way, your guide will introduce you to an Irish Fairy tree, unveiling its significance in Irish folklore. This is a photo stop you won't want to miss!
Kylemore Abbey & Victorian Walled Gardens Estate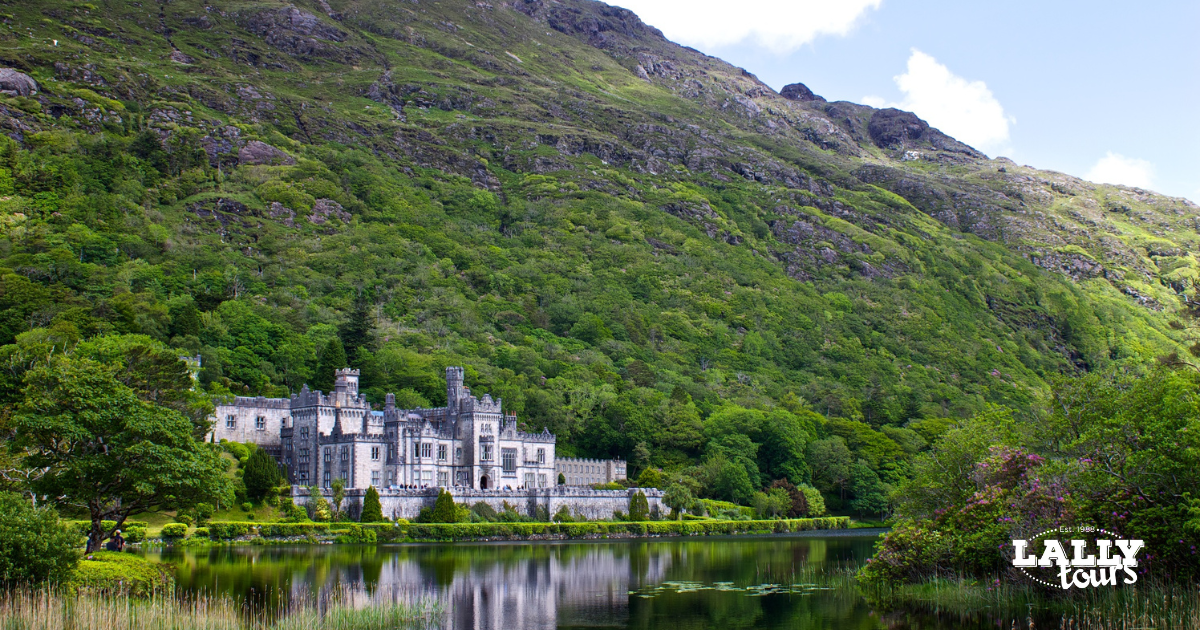 Kylemore Abbey, Galway.
Dive into the fascinating history of Kylemore Abbey and its immaculate gardens. You'll have approximately 2.5 hours to explore the Neo-Gothic Church, Victorian Gardens, Restored Gardeners-House, and more! Your guide will provide valuable insights on how to make the most of your time.
There is a free shuttle bus to the Victoria Walled Gardens, making this an enchanting oasis on the west side of the estate accessible to all. Top off your visit with a delectable lunch in the restaurant and a visit to the gift shop, where you can pick up souvenirs, including exquisite Aran knitwear.
On the Road Again..
In the afternoon, the journey leads you through the enchanting Inagh Valley, where the trees form a picturesque canopy over the road, reminiscent of scenes from a movie! Returning to Maam Cross, you'll head south into Connemara, an Irish-speaking region that offers a glimpse into life in these remote and traditional Irish communities.
Connemara's Stunning Loughs and Islands
The tour takes you on a picturesque route through Connemara, allowing you to admire the region's beautiful loughs and islands. These enchanting landscapes are an invitation to connect with the unspoiled natural world.
Gaeltacht Areas (Irish-Speaking Regions)
Head towards South Connemara into Gaeltacht areas like Camus and Screeb, and admire the breathtaking Screeb Waterfall. As you journey through this region, you'll have the opportunity to see anglers' huts on small islands dotting the beautiful lakes.
South Connemara's Unique Landscape
The landscape undergoes a dramatic transformation in South Connemara, characterised by flat terrain and limestone features that bear an uncanny resemblance to the surface of the moon.
Wild Atlantic Way Galway
Driving through Costello, Baile na Habhann, and Inverin, all Irish-speaking Gaeltacht areas, you'll gain a sense of what it would be like to live in these vibrant communities, where the Irish language and culture thrive. Along the way, enjoy captivating views of Galway Bay and the mighty Atlantic Ocean, with the tour taking you parallel to the coast and offering stunning views of the Wild Atlantic Way.
Spiddal (An Spidéal) - Coastal Village
Pass through the area of Cois Fharriage, which translates to 'Beside the Sea,' allowing you to experience the rugged beauty of the Irish coastline. Visit Spiddal (an Spideal), a charming coastal town located in a Gaeltacht area. Here, you have the option to visit souvenir shops or enjoy a cup of coffee at our favourite spot, Rúnda coffee shop, owned by a local family.
Back To Galway City
As the tour draws to a close, you'll drive through Salthill and Barna, making your way back into Galway City. The tour typically returns to the city between 5:15 and 5:30, contingent on traffic conditions. This provides the ideal opportunity to head into the heart of Galway for a tasty evening meal. Be sure to ask your guide for some recommendations.
Traditional Irish Music Session Time?
We always recommend popping into Taaffes Bar, renowned for its daily sessions of Traditional Irish Music starting at 5:30 pm. Here, you can savour the best pint of Guinness in Galway and relish the genuine Irish 'Craic.' It's the perfect way to round off the evening after a fabulous day tour with Lally Tours!
Why this tour?
Lally Tours' Galway to Connemara and Kylemore Abbey Full Day Tour offers a profound and unforgettable experience, promising a deeper understanding of Ireland's stunning landscapes, vibrant culture, and warm hospitality. This tour will leave you with cherished memories of the captivating west coast of the Emerald Isle. Make the most of your visit to Ireland and book your tour today!
Join us on the Galway to Connemara and Kylemore Abbey Full Day Tour, where each of these highlights weaves a tapestry of experiences that will linger in your memory for years to come.