EXPLORE GALWAY CITY, THE CLIFFS OF MOHER AND THE BURREN IN ONE DAY
Dublin to Galway City, Cliffs of Moher and Burren Full Day Tour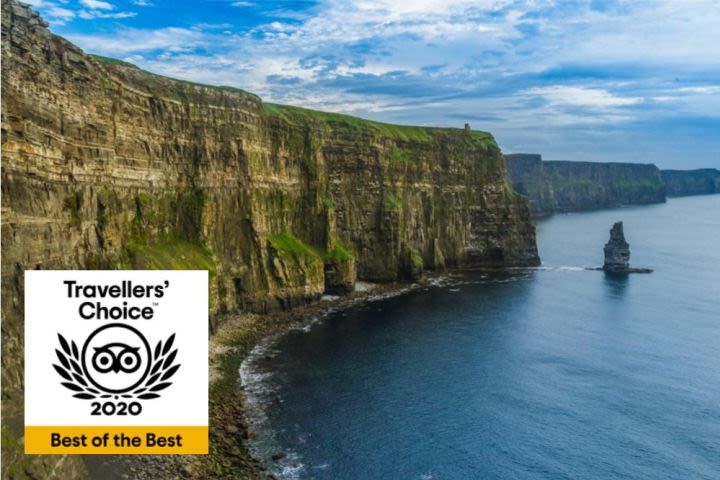 TOUR DESCRIPTION
06:45am - Depart from Dublin from the stop right outside the CityLink Dublin Office at:
4 Crampton Quay,
Temple Bar,
Dublin, D02 X434
Between the O'Connell Bridge and the Ha'penny Bridge outside the Forbidden Planet comic store and Eden Recruitment. (MAP)
09:15am - Arrive in Galway City
09:30am - Depart on tour to the Cliffs of Moher and the Burren
05:30pm - Return to Galway City
06:15pm - Departure from Galway
08:45pm - Arrive back in Dublin
Return Bus Transfer - Dublin to Galway
Galway to Cliffs of Moher & Burren Day Tour
48 Hour Free Cancellation
Entrance to Cliffs of Moher Visitor Experience
Guided Day Tour
USB Charging Sockets Onboard
Important Information
Can I display my ticket on my mobile phone?
Yes, we actively encourage a paperless environment as much as possible
What should I bring with me?
A camera – You'll see many beautiful landscapes and iconic Irish sights, so many guests bring their own camera
Comfortable Shoes – On each of our tours, we make stops that can require lengthy walks. Make sure you wear comfortable shoes so you don't miss out on Ireland's hidden gems!
Weatherproof clothing – If the forecast is showing anything other than 100% sunshine, you should probably bring a rain jacket. All of our vehicles have air-conditioning, but in the winter months it is advised to bring a scarf and/or gloves to keep you warm and snug when you're outside in the elements.
A phone charger - this is going to be a jam-packed day, especially if you opt to spend a little longer in Galway, so it'll be a good idea to bring a phone charger
Is there a stop for lunch?
Yes, there are plenty of stops for lunch and refreshment options. Lunch is not included in ticket price.
Should I tip?
Gratuities are not required. However we think our drivers and guides have a tough job to do, so if you enjoyed your trip, feel free to tip your driver appropriately – it is truly appreciated.
I'm a student outside of Ireland, do I qualify for the Student Discount?
Yes. You will need to verify enrollment in your home university. Please bring your valid Student I.D.
Are there toilets on the bus?
For your Dublin to Galway return transfers there are toilets on the bus. There are toilets on your day tour bus during the Summer season only, but don't worry, we make plenty of rest and toilet breaks.
MORE INFORMATION
Tour Highlights
As you travel through the Burren, listen to your expert driver/guide share information and history of Galway and surrounding area. Exit the coach to visit windswept landscapes independently and explore Ireland's exposed limestone terrain, jagged cliffs and untamed Atlantic Ocean. Following the featured stops of the trip, you'll travel back to Galway along the Wild Atlantic Way, offering many photo opportunities of the coast – so keep your cameras ready!
Along the route
Kinvara, Dunguaire Castle, Aillwee Cave, Lisdoonvarna, Corkscrew Hill, Cliffs of Moher, Doolin, Wild Atlantic Way, Coastal Road, Blackhead Lighthouse
Featured Stops
Dunguaire Castle (Kinvara)
Standing tall watching over Galway Bay, this iconic 1520's castle was the Royal Palace of Guaire Aidhne, King of Connacht. Length: 15 minutes
Aillwee Cave
Trek through one of Ireland's natural, showcase caves. Not feeling adventurous? A cafe is located on the grounds which boasts a menu of local food and coffee options. Length: 30 minutes
**Please note that Aillwee Cave will be closed until Spring 2023.**
Cliffs of Moher & Visitor Centre
FREE ADMISSION! Encounter a moment of magic as you stand atop these awe-inspiring, rigid cliffs with edges dropping into the untamed Atlantic Ocean. Stretching 8km (5 miles) along the Atlantic coast of County Clare, The Cliffs of Moher stand 700 feet tall. Visitors are welcomed to explore the walking paths along the most outstanding landscape in Ireland. Discover the unique colony of seabirds from the South platform, counting upwards of 30,000 birds from 20 different species! Length: 1 hour 30 minutes
Doolin
A charming seaside village along the Wild Atlantic Way claimed as Ireland's traditional music capital. Have lunch while exploring the strip of pubs, Irish crafts and shops. Length: 45 minutes