Exploring Connemara & Kylemore Abbey with Lally Tours - Solo traveller in mid 20's
I had the pleasure of trying out the Galway to Connemara and Kylemore Abbey Full Day Tour. Let me tell you, it was a day I won't soon forget!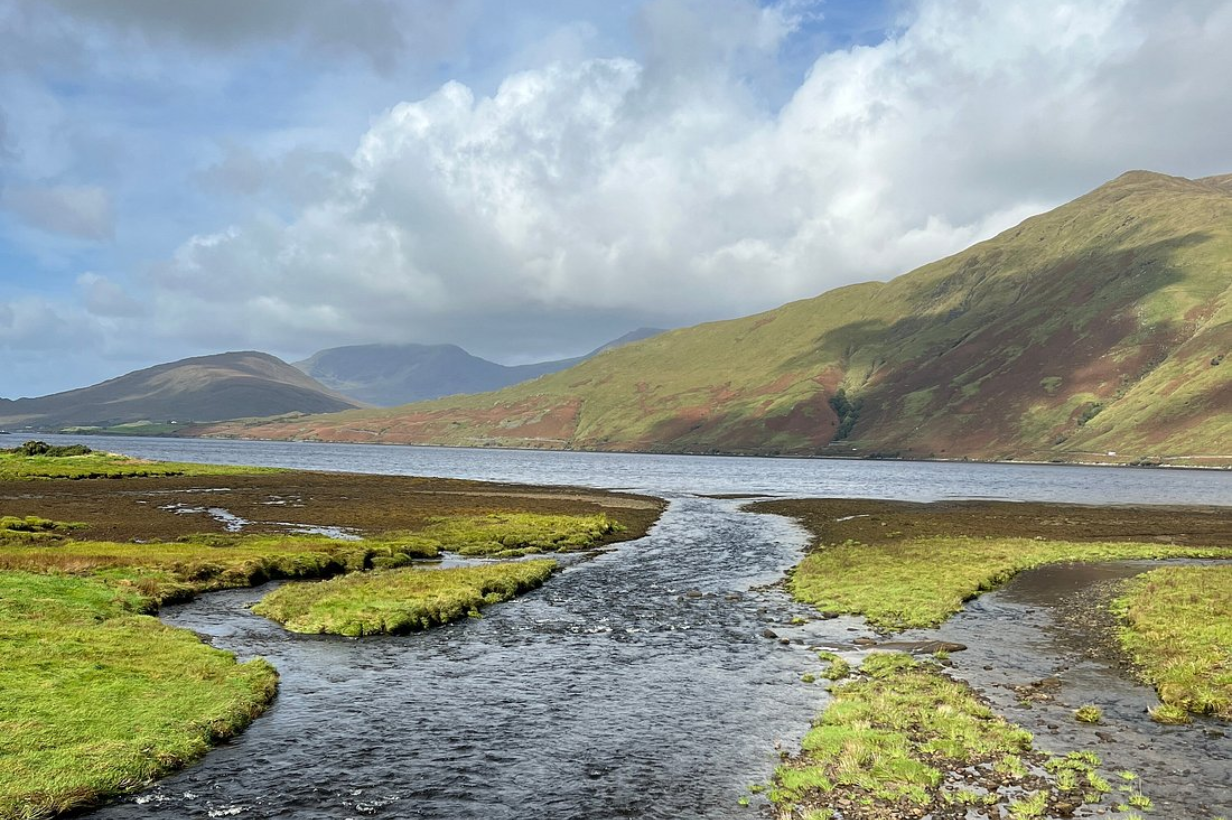 View from Leenane Village, Connemara
The adventure kicked off at 10:00 am right outside the Hyde Hotel in Galway City. I arrived at about 9:40am, which gave me time to check-in with the Lally Tours staff and to grab a coffee in nearby Wylde Cafe. They give 10% off your purchase if you mention you're a Lally Tours passenger!
I was beyond excited to explore the stunning landscapes and rich culture of Ireland's west coast. Getting off the beaten track was top of my bucket list from my trip to Ireland, so I was super excited! Even though my boyfriend is Irish, and I've been to Dublin a few times, I've never been to the west of Ireland. So, I felt like a wide-eyed tourist, ready for a guided experience
I was a little apprehensive about taking this tour, as this was my first solo experience in Ireland. However, the staff member who checked me onto the bus was so friendly and chatty, which put me at ease. They assured me that solo-travellers often travel on Lally Tours' day tours and that I'd fit right in.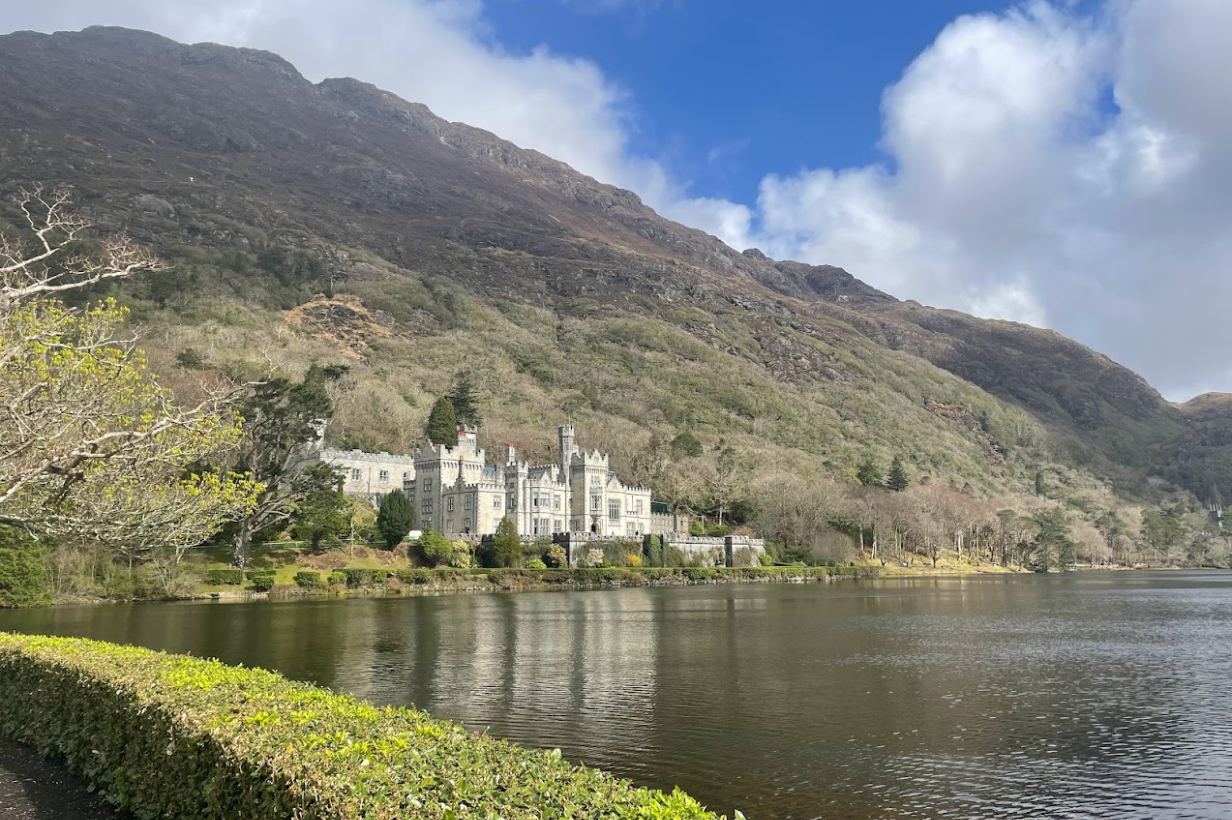 View approaching Kylemore Abbey, Galway.
Our expert local guide, Gerry, added a personal touch to the experience. I emphasise the word 'expert' because he really was! He shared not just historical facts, but also stories and traditions that have been passed down through generations. It gave me a profound appreciation for Ireland's unique character, its cultural heritage, and the 'Craic' – the fun-loving and convivial spirit that's at the heart of this country. I feel I really immersed myself in the 'Irishness' on this tour. More so than I have when visiting Dublin, as the west of Ireland really gives you a sense of what Ireland would have been like in days gone by.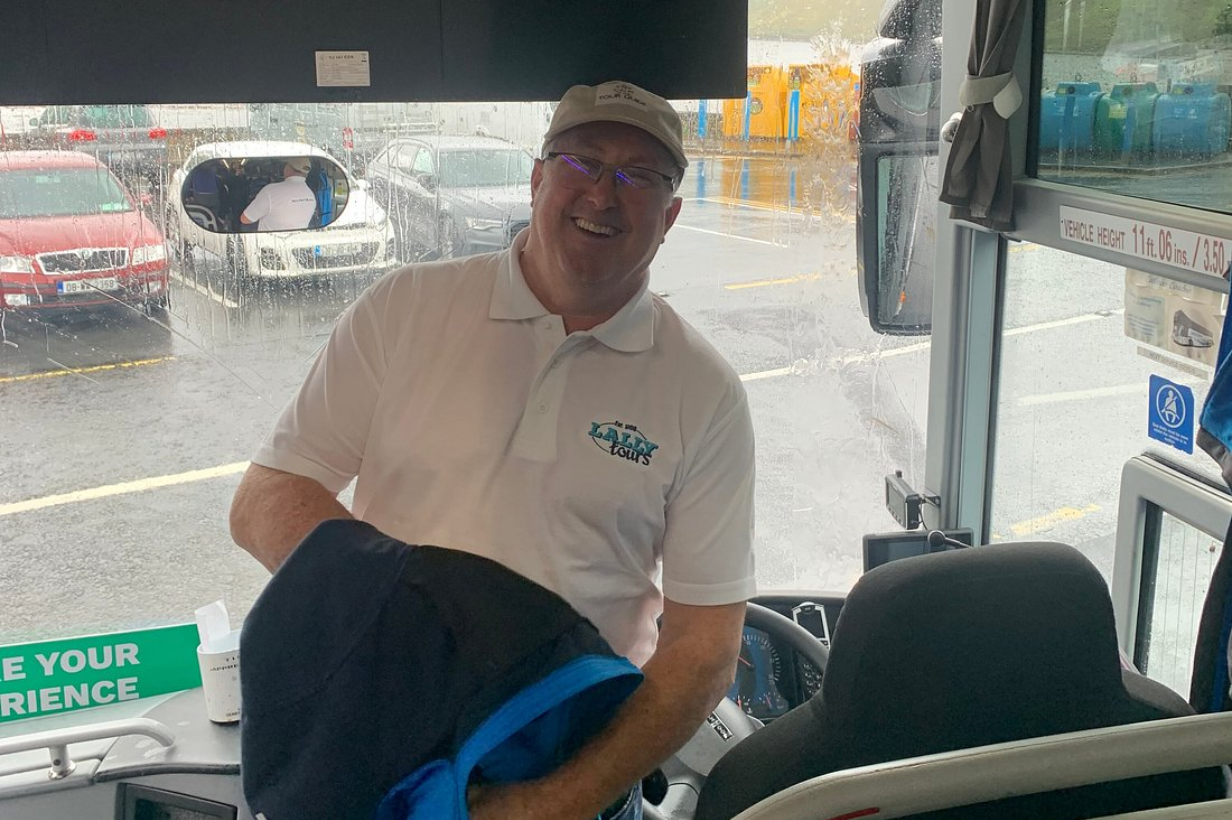 Best Tour Guide ever - Gerry!
The day was peppered with captivating photo stops. This was important to me when choosing which day tour company to go with. I wanted to make sure that I would be able to get some photos and videos; without any shame! Luckily, Gerry, along with fellow guests, were more than happy to take many (and I mean many!) photos of me at each stop. I feel that I got the chance to really soak in the mesmerising beauty of Connemara. Oughterard, with its picturesque River Corrib and historic thatched-roof cottages, was an early highlight. It set the stage for a day filled with immersion in Connemara's natural beauty.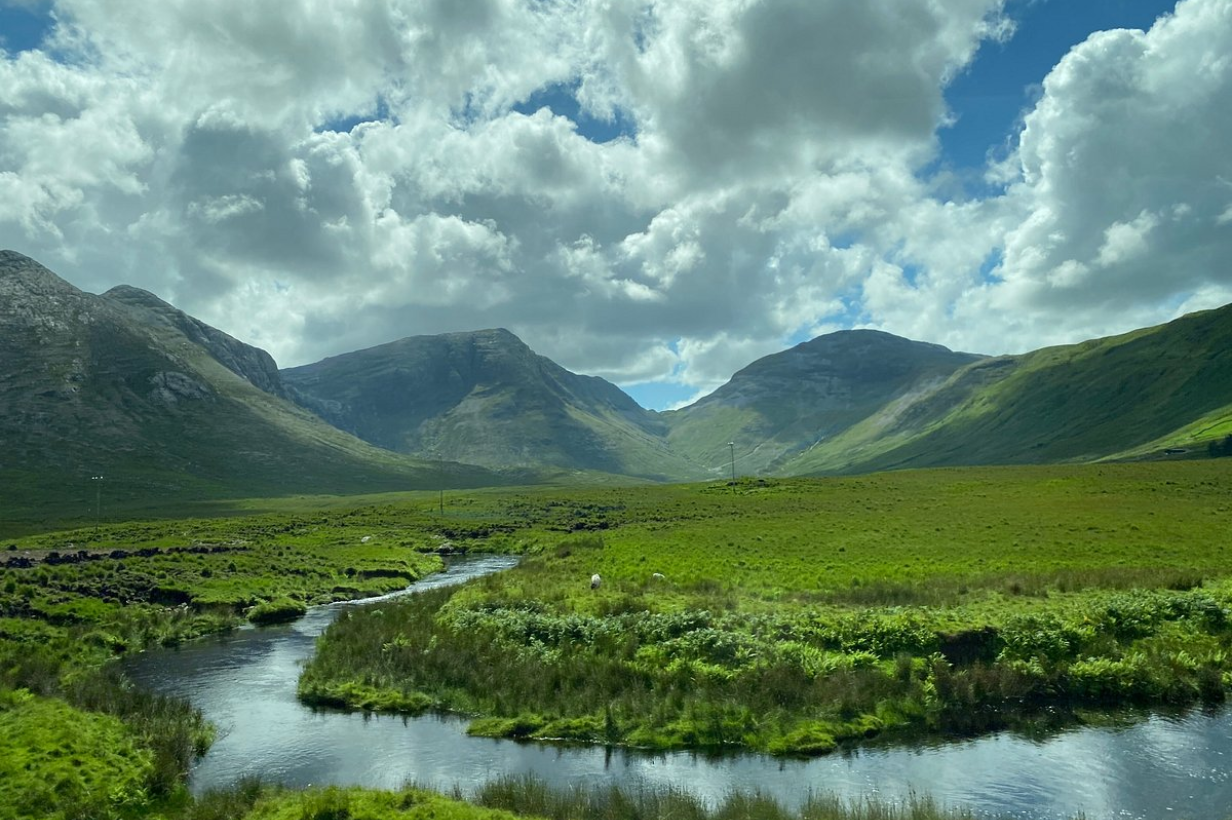 View from one of our many photo stops.
One of my favourite moments was encountering Connemara Ponies, these adorable native horses. And let's not forget the curious Connemara Mountain Sheep, who roam freely across the road in front of oncoming traffic! Gerry handled one of them being on the road so well, a real natural! It's impossible not to fall in love with these animals as they go about their day.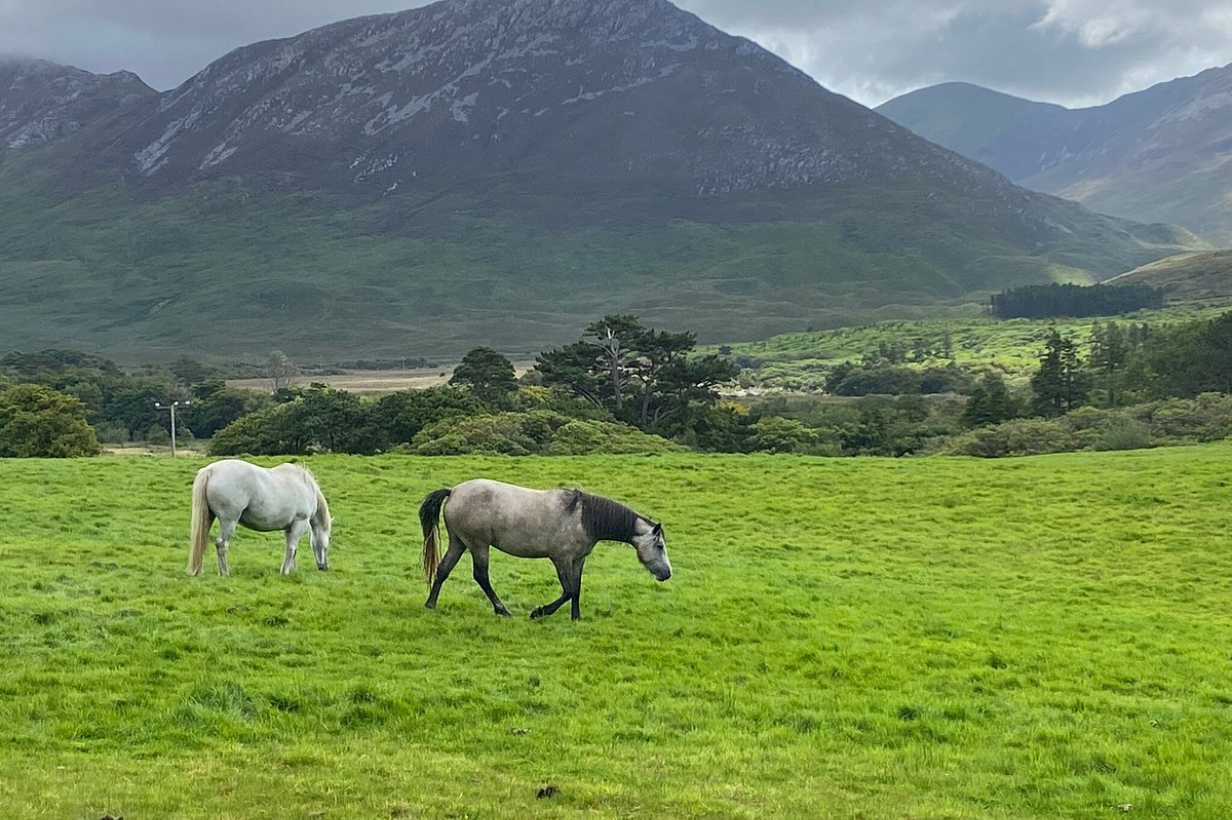 Connemara Ponies grazing.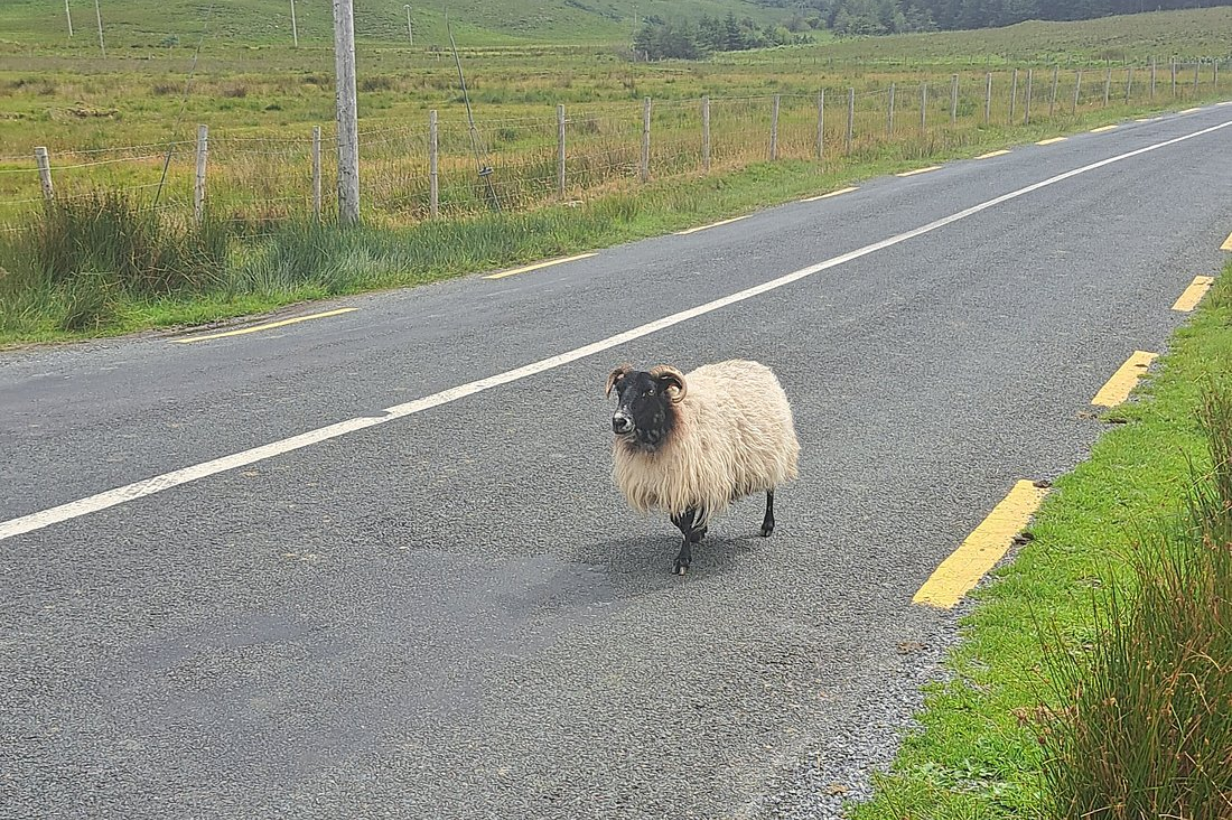 Connemara Mountain sheep roaming around!
As the tour continued, we stumbled upon stone ruins of old homesteads from The Great Famine, a reminder of Ireland's rich history. These ancient remnants, combined with the picturesque surroundings, wove a beautiful tale of the past. It was fascinating to hear about the history behind them.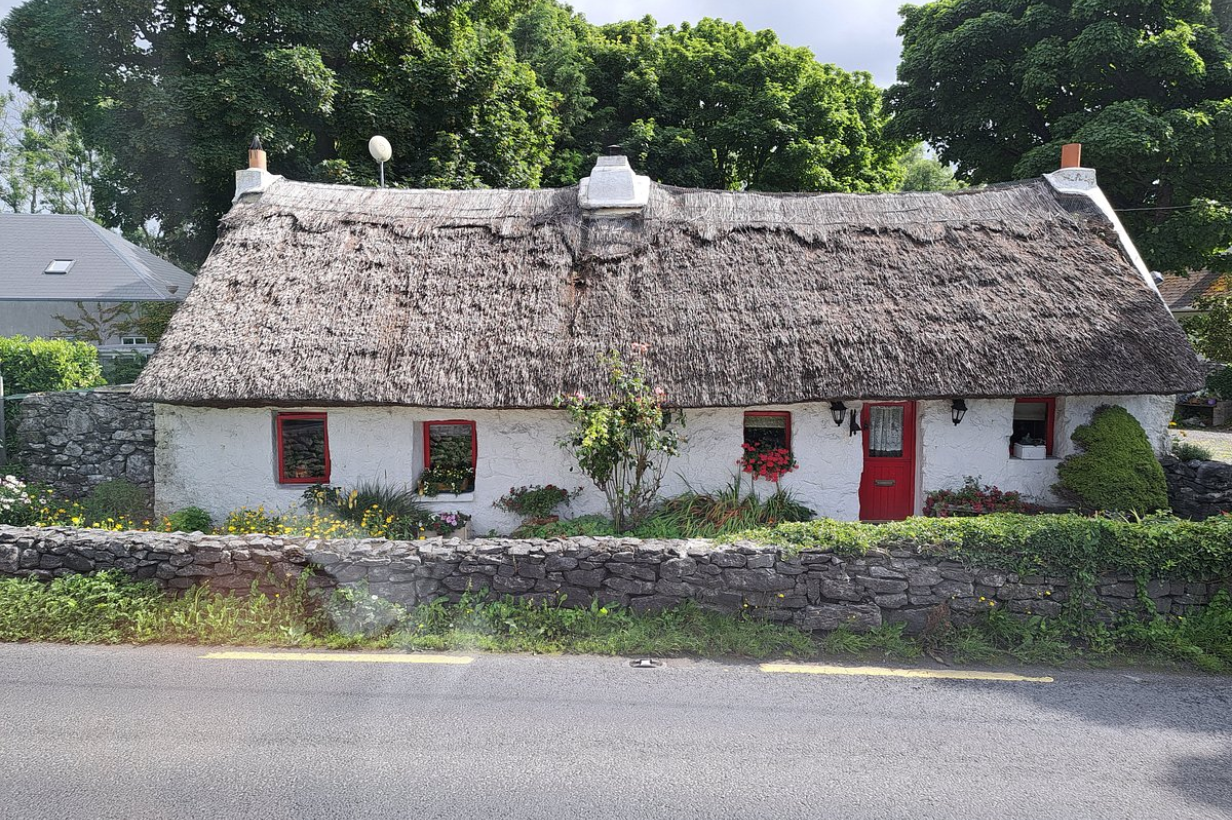 A traditional thatched roof cottage, Oughterard.
The tour also led us to Maam Cross, a place where you can step back in time with preserved old railway tracks. It was like taking a journey through Ireland's transportation history. And then, we arrived at Recess, the gateway to Joyce Country, where the 12 Bens mountain range left me in awe.
But what truly set this tour apart was the opportunity to explore iconic film locations. I could see why Hollywood directors chose Connemara as a backdrop for movies like 'The Field' and 'Marley & Me.' It added a layer of enchantment to the tour, making it a journey into both history and cinematic magic.
We made a stop in Leenane Village, a secluded and scenic haven, and I enjoyed a coffee while taking in the surroundings. This village was so quaint; very remote and quiet! I felt like I was in P.S I Love You or something! I got my coffee as per Gerry's recommendation in The Sheep and Wool Centre in Leenane; and I couldn't resist bringing home some traditional Irish woollen slippers as a souvenir.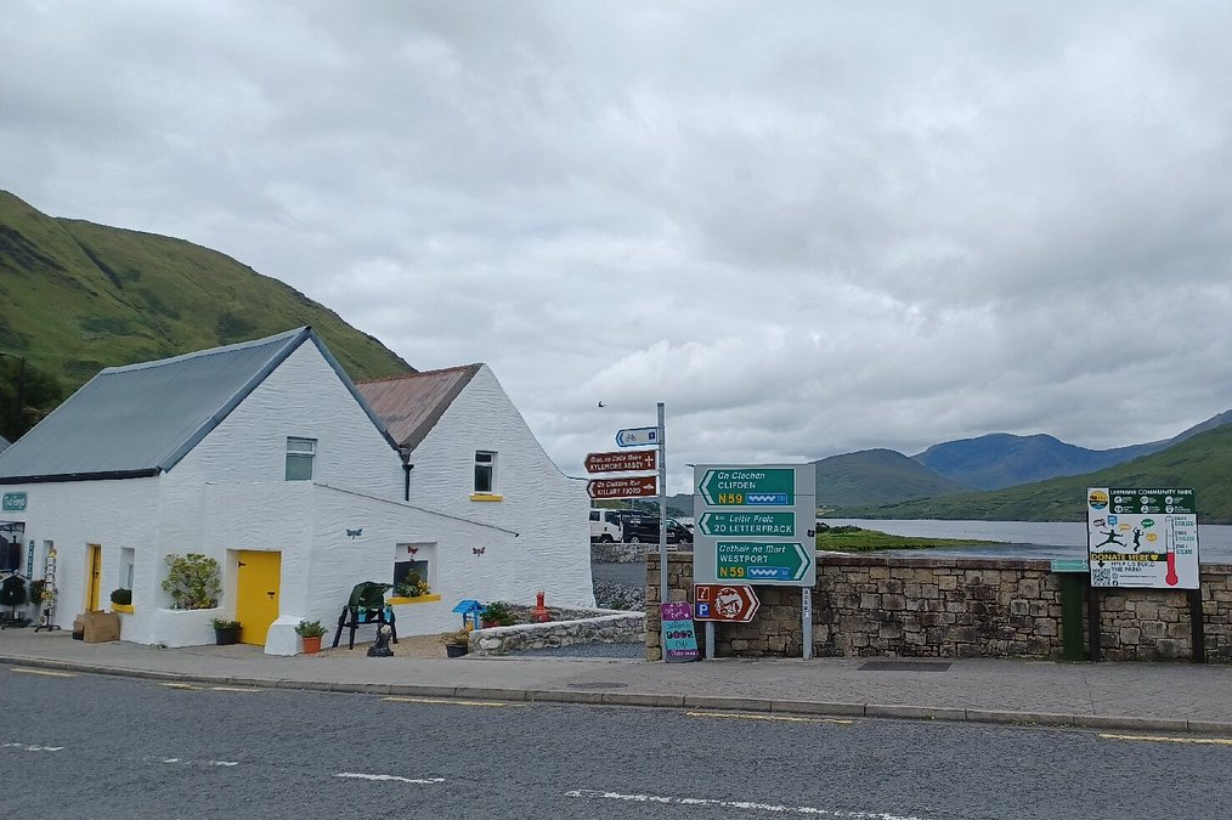 Leenane Village, Connemara.
One of the tour's highlights was the Killary Fjord lookout. The fjord landscape was nothing short of stunning, and our guide shared the significance of an Irish Fairy tree in Irish folklore. This was a photo stop that I couldn't miss, and it left me with some breathtaking shots.
And then, the grand finale - Kylemore Abbey and its Victorian Walled Gardens. It's hard to put into words the beauty of this place. The Neo-Gothic Church, Victorian Gardens, Restored Gardeners-House – it was like stepping into a different world. The 2.5 hours we had to explore felt like no time at all, and I left with valuable insights into the estate's history. I'd recommend hopping on the free shuttle bus to the gardens first. Then heading abc to the abbey and gothic church afterwards. This meant I wasn't in a rush and was able to grab lunch in the restaurant close to the abbey. I learnt so much inside the Abbey itself, did you know it used to be a high school up until 2010?! Crazy!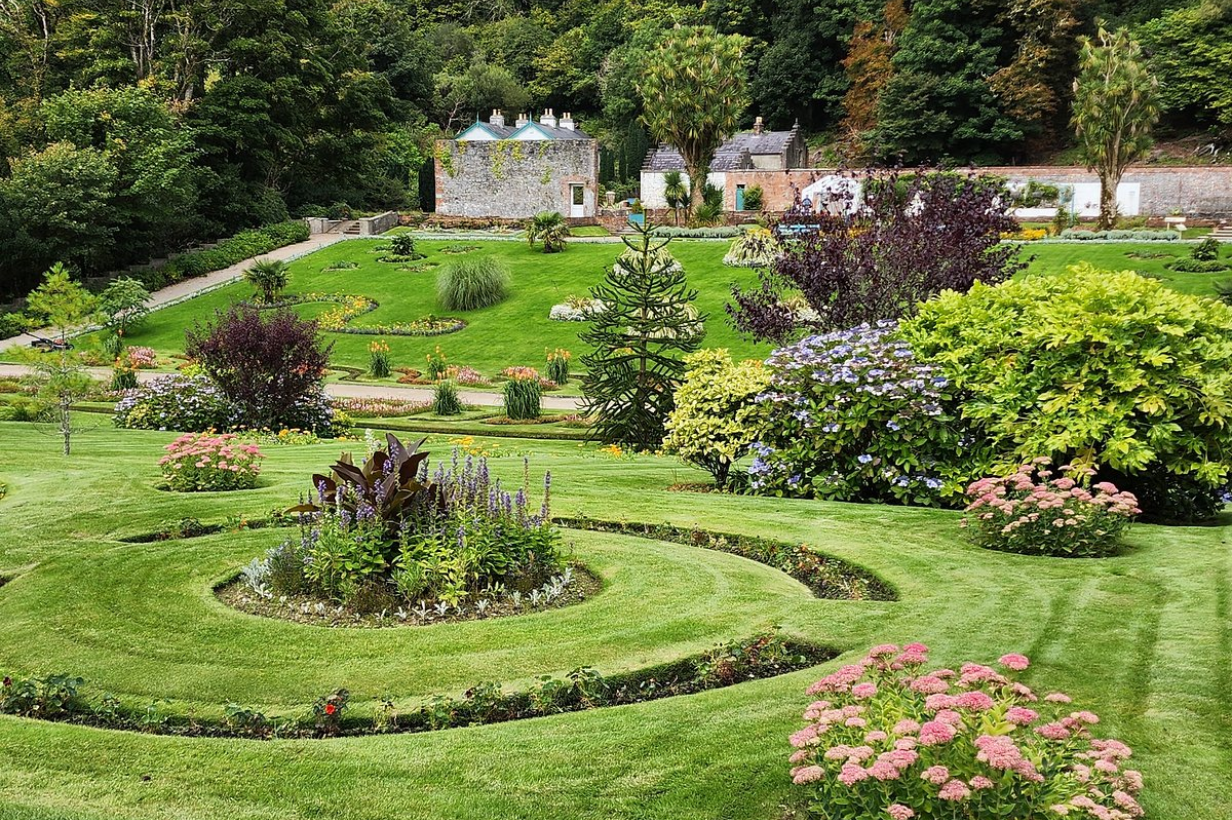 The Victorian Walled Gardens on Kylemore Abbey Estate.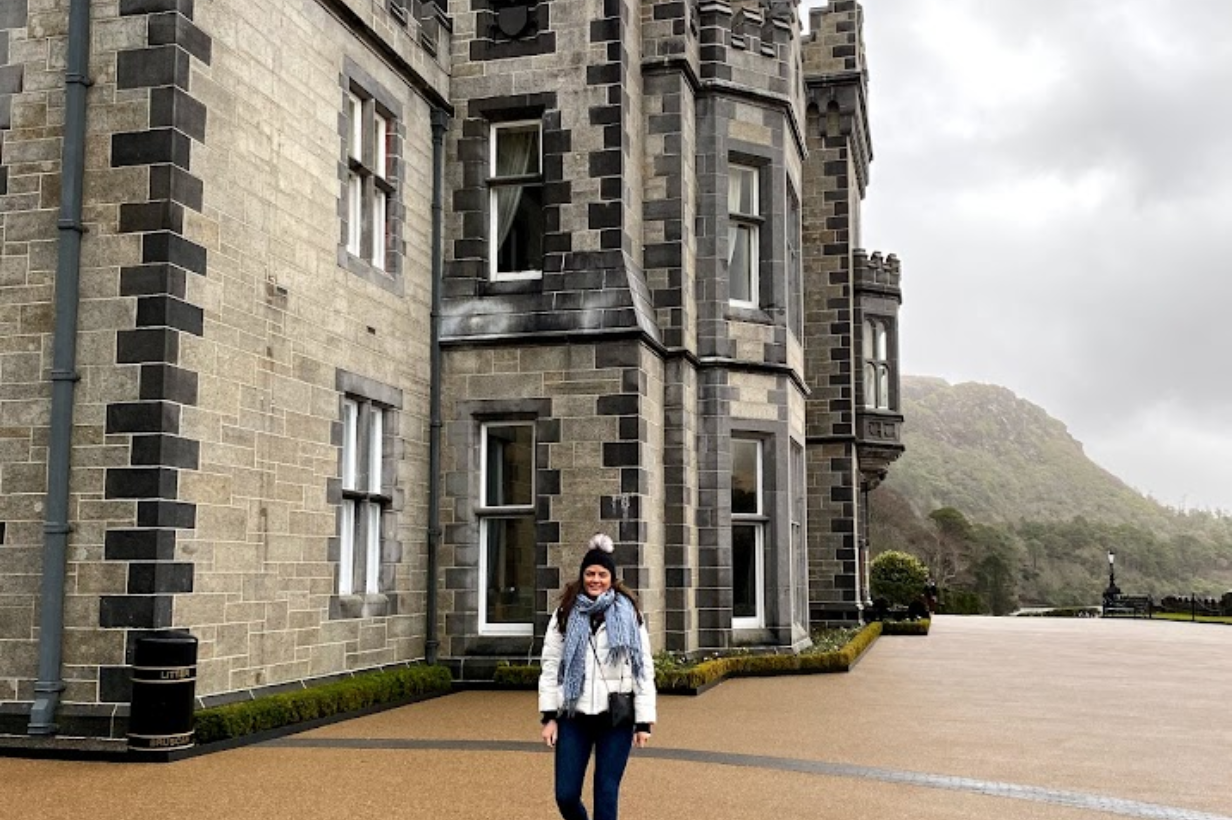 Outside Kylemore Abbey.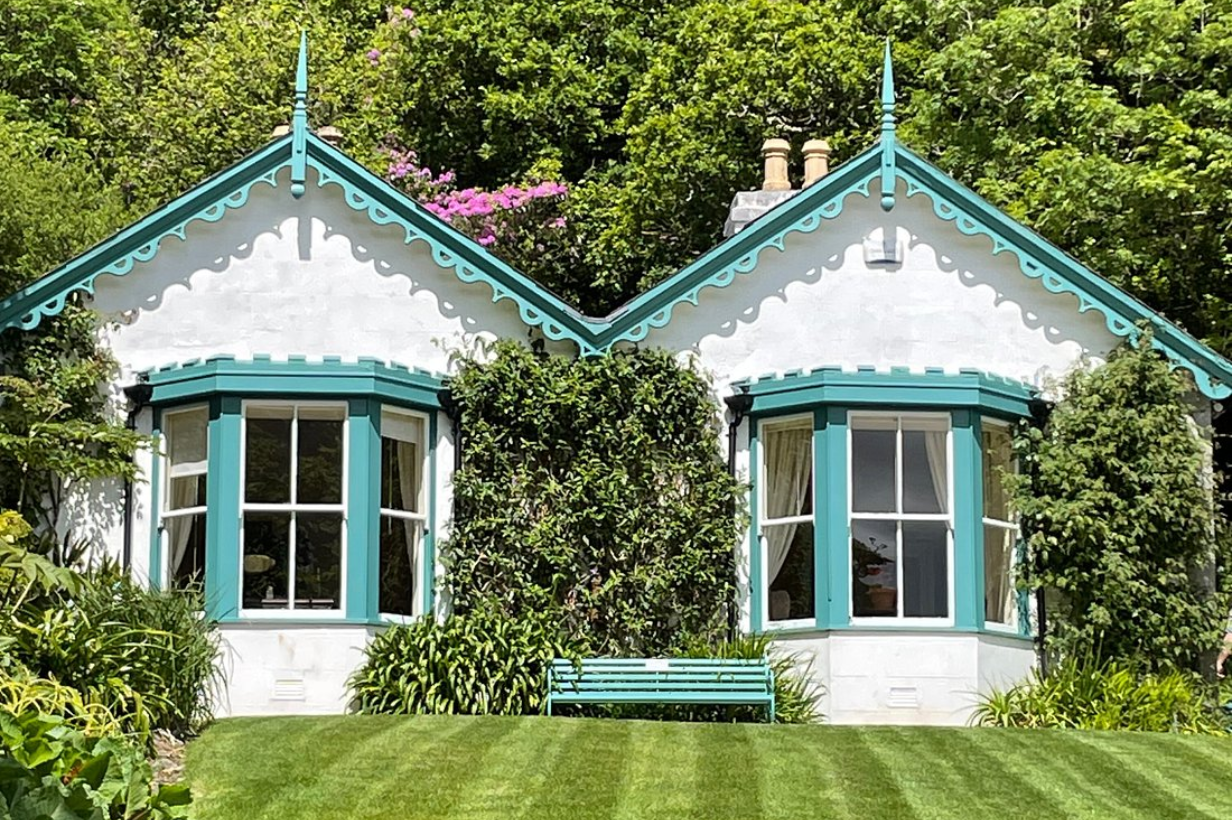 The Restored Gardner's House on Kylemore Abbey Estate.
As the journey continued through the Inagh Valley, where trees formed a picturesque canopy over the road, I couldn't help but feel like I was in a movie. It was a magical moment. The tour enabled me to admire Connemara's beautiful loughs and islands. The landscapes were enchanting, and I felt truly connected to the natural world. Plus, I got some fabulous pics for my Instagram and great videos for my TikTok!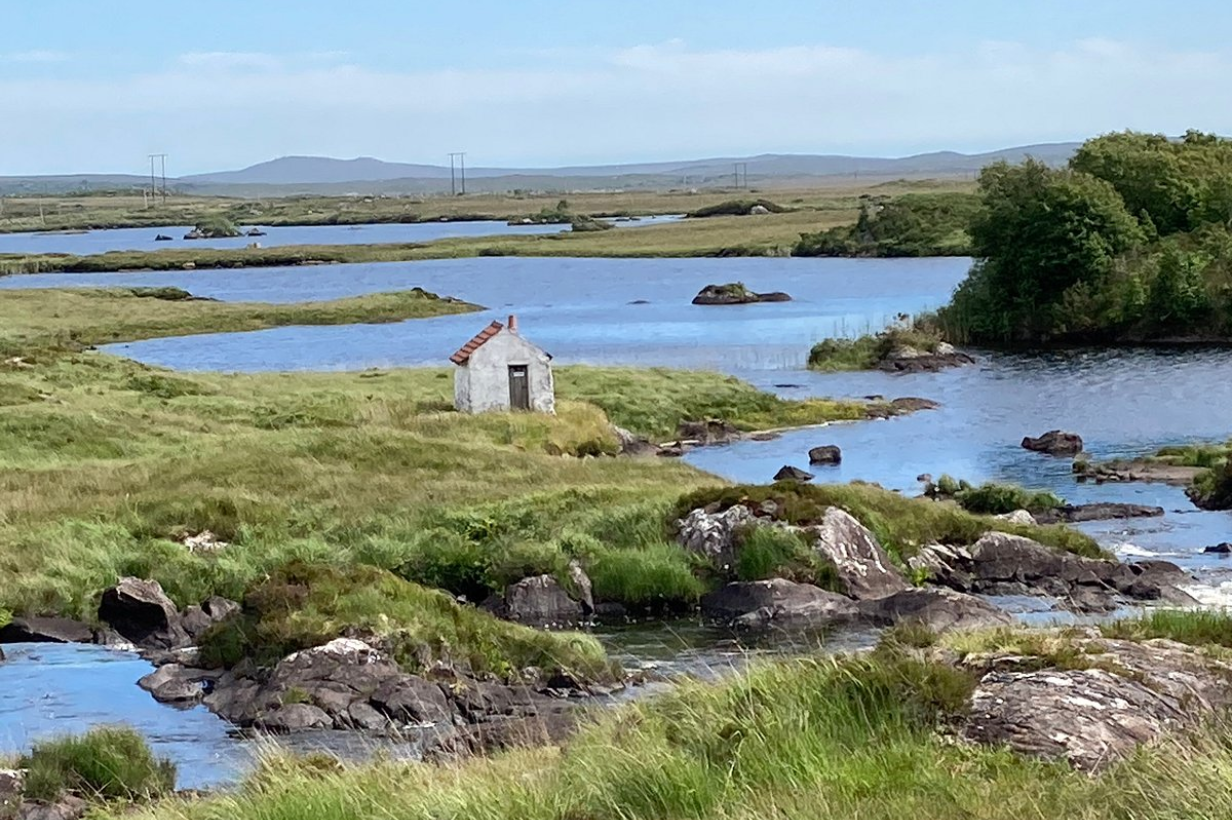 Angler's Hut on a small island on a lake in Connemara, Co. Galway.
We also headed into Gaeltacht areas like Camus and Screebe, where the breathtaking Screebe Waterfall awaited. It was a moment of awe-inspiring beauty. The landscape then transformed dramatically in South Connemara, offering flat terrain and limestone features that resembled the surface of the moon. It was a unique sight that I won't soon forget.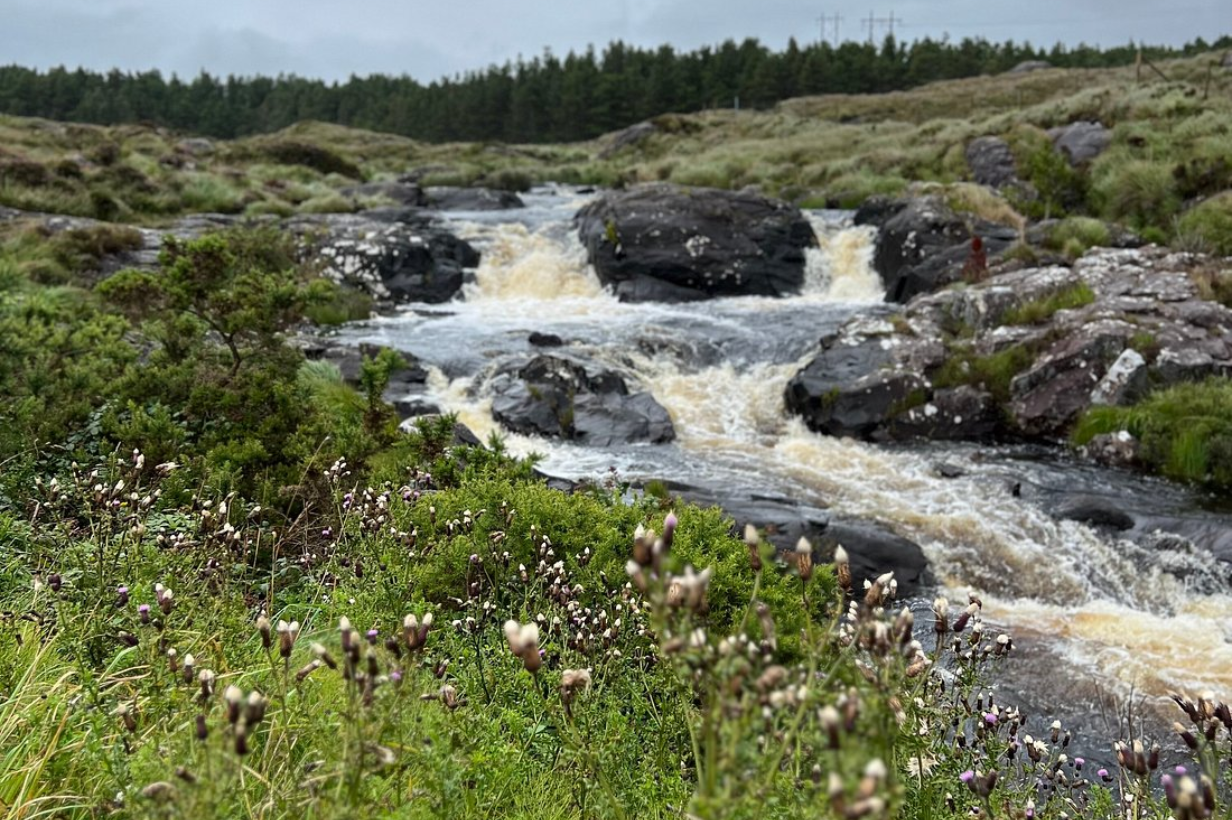 Screebe Waterfall, Connemara.
As we drove through Costello, Baile na Habhann, and Inverin, I gained a glimpse of vibrant Irish-speaking communities. The views of Galway Bay and the mighty Atlantic Ocean were simply breathtaking. Gerry was so knowledgeable, providing insights into the area's history, folklore, geography and culture.
Our final stop in Spiddal, aka: An Spideál, a charming coastal town, allowed me to experience the rugged beauty of the Irish coastline. I had the option to visit souvenir shops or enjoy a cup of coffee at Rúnda coffee shop, owned by a local family. I got a scrumptious pastry here. 10/10 would recommend.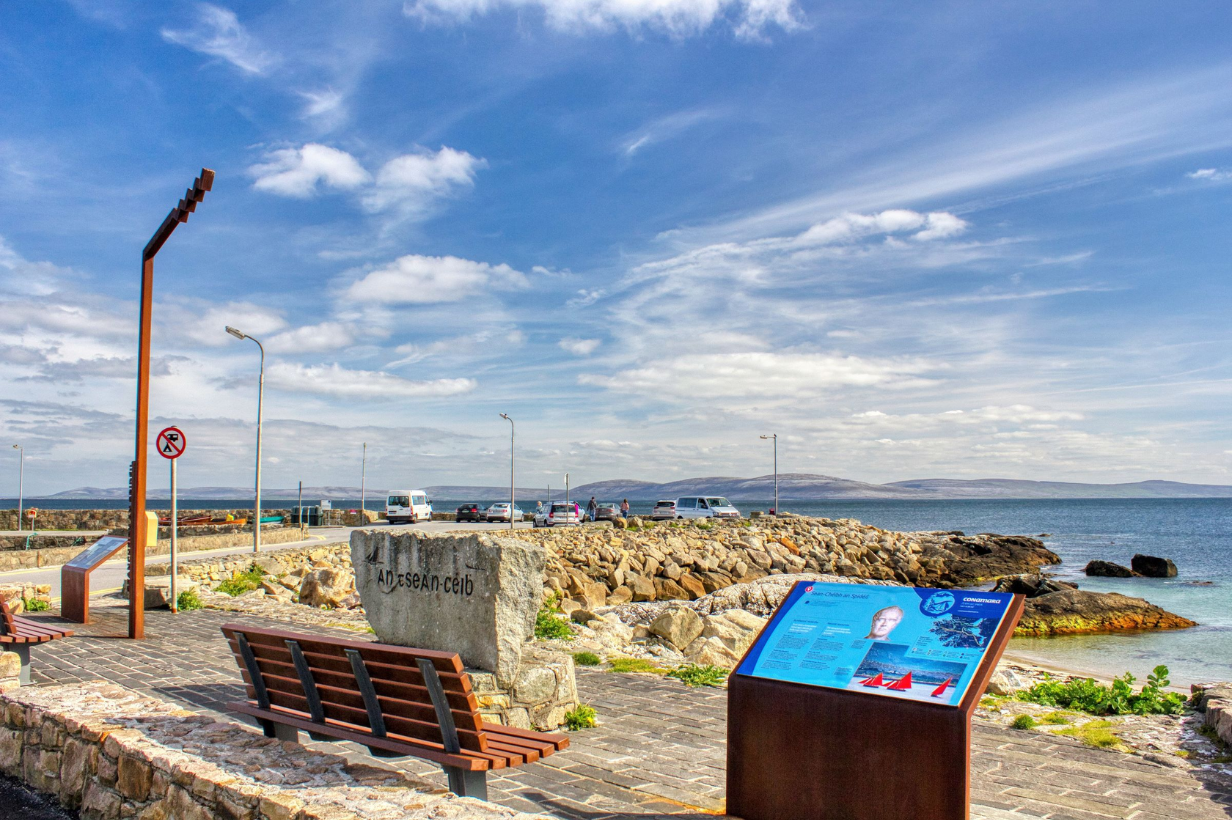 Spiddal, coastal village on the Wild Atlanic Way
And as the tour drew to a close, driving through Salthill and Barna, I was starting to get a little tired. We arrived back into Galway City at about 5:20pm. But that's not where the adventure ended!
I decided to head to An Pucan for my dinner, as recommended by my amazing Guide Gerry! I rounded off the day by popping into Taaffes Bar, renowned for its daily sessions of Traditional Irish Music. It was the perfect way to savour the best pint of Guinness in Galway and relish the genuine Irish 'Craic.' It was the ideal conclusion to a fabulous day with Lally Tours.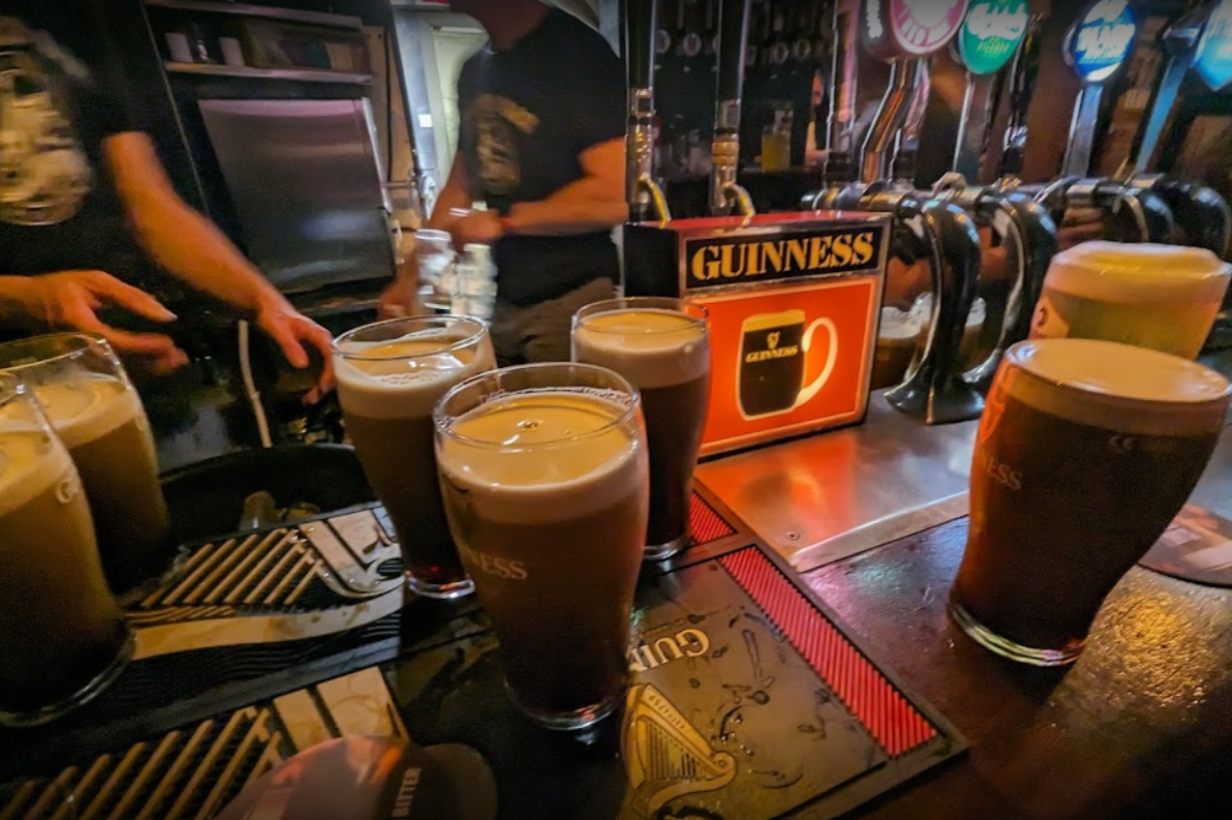 Pints of Guinness in Taaffes Pub at 5:30pm - Trad Music Session!
This tour isn't just about seeing the sights; it's about experiencing the heart and soul of Ireland. It offers an in-depth understanding of the country's stunning landscapes, vibrant culture, and warm hospitality. I can't recommend it enough! So if you're looking to make the most of your visit to Ireland, book your tour today and join me on the Galway to Connemara and Kylemore Abbey Full Day Tour. You won't regret it!