Galway, Ireland: Tips on How to Prepare for a Trip to Ireland's Most Charming City
Galway, a charming city located on the west coast of Ireland is known for its lively atmosphere, traditional music, and breathtaking scenery. Located on Ireland's Wild Atlantic Way, this historic Irish city has a population of approximately 80,000 people, making it much smaller than the bustling metropolis of New York City, which has a population of over 8 million. Despite its size, Galway packs a punch with its lively pubs, medieval streets, and stunning landscapes. Its location on the Wild Atlantic Way and proximity to iconic sites like The Cliffs of Moher, Kylemore Abbey and The Aran Islands, make it a must-visit destination for anyone exploring Ireland's west coast.
The city is situated beside Galway Bay, offering breathtaking views of the Atlantic Ocean and surrounding countryside. It's a must-visit destination for anyone looking to experience the beauty and charm of Ireland.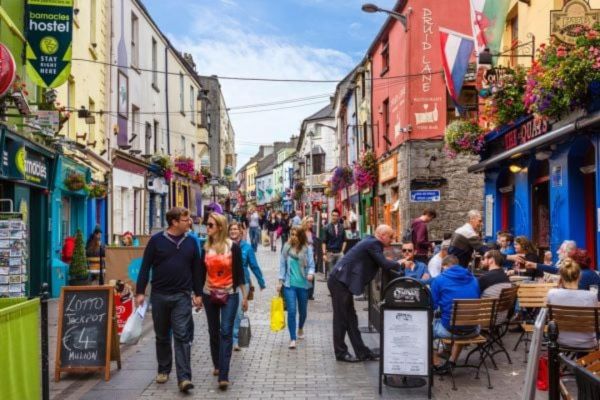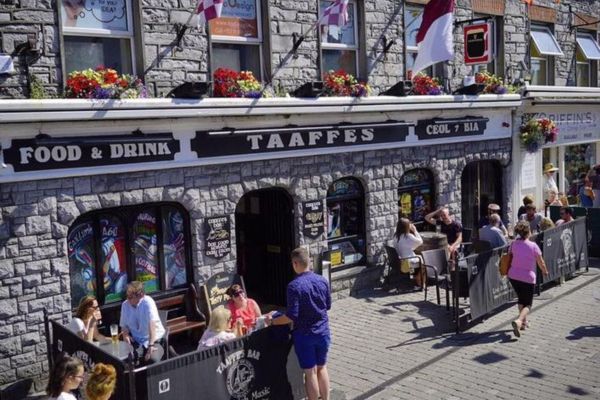 The Weather in Galway
First things first, let's talk about the weather. Galway is infamous for its unpredictable weather, so it's essential to pack appropriately. While the city enjoys mild temperatures throughout the year, it's not unusual to experience four seasons in one day! So, make sure you bring layers of clothes to stay warm and dry, even if the sun is shining. A waterproof jacket is a must, as well as comfortable walking shoes. Don't forget to pack some sun cream, too, as the sun can be surprisingly strong, even on cloudy days.
Where to Eat, Drink and Party in Galway City
Now that you're dressed for the weather, let's move on to the fun stuff – eating, drinking, and experiencing traditional Irish culture. Galway is a foodie's paradise, with a plethora of restaurants, pubs, and cafes to choose from. For a traditional Irish pub experience, head to Taaffes bar, located in the heart of the city. This cozy pub has been a favorite among locals and tourists alike for over 150 years. It's the perfect spot to grab a pint of Guinness and listen to live music, which is played every night.
Galway is renowned for its lively nightlife, and there's no shortage of places to party in this bustling city. One of the most famous spots is Quay Street, which is lined with traditional pubs, trendy bars, and live music venues. Taaffes Bar is a must-visit for anyone looking to experience traditional Irish music in a cozy, welcoming atmosphere. Other popular spots include The King's Head, The Front Door, and The Skeff Bar, all of which offer a mix of live music, DJs, and a fun, energetic atmosphere. Whether you're looking for a wild night out or a cozy spot to enjoy a pint, Galway has something for everyone.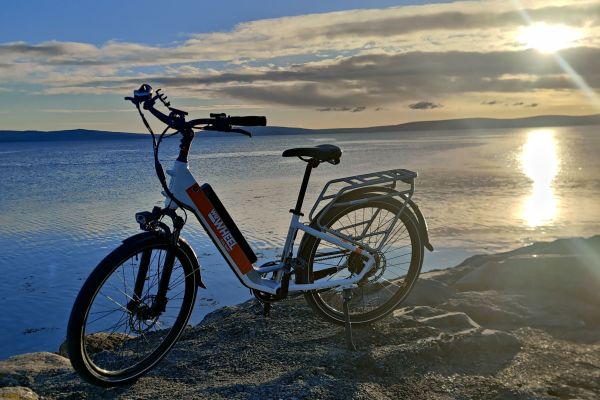 Outdoor Activities to Do In Galway City
If you're looking for something a bit more adventurous, why not try an e-bike tour with WeWheel Galway? This family-run business offers guided or self-guided tours around the city and the surrounding neighbourhoods. With motorised batteries and GPS map tracking, their e-bikes make cycling a breeze, even if you're not an experienced cyclist. You'll have the opportunity to explore Galway's stunning scenery, including the Long Walk, The Claddagh, The Salthill Prom, the ground of University of Galway and much more! WeWheel Galway is located in the heart of the Latin Quarter, at the Corn Store. just a stone's throw from the city centre. You can book a tour by visiting their website at wewheel.com or giving them an email at hello@wewheel.com.
Walking Tours of Galway City
Another great way to discover Galway is through a walking tour with Experience Galway. This highly regarded walking tour company offers a range of tours to suit every taste, from introduction to the city walking tours, pub tours, tasting tours where you sample a variety of Irish fare, dark history tours, and more. Their expert guides will take you on a journey through Galway's fascinating history and culture, revealing hidden gems and quirky anecdotes along the way. You can book a tour on their website or by visiting the Explore Galway Kiosk in Eyre Square, in Galway City Center.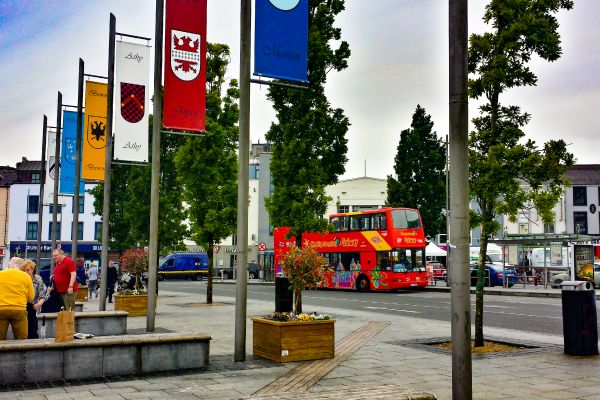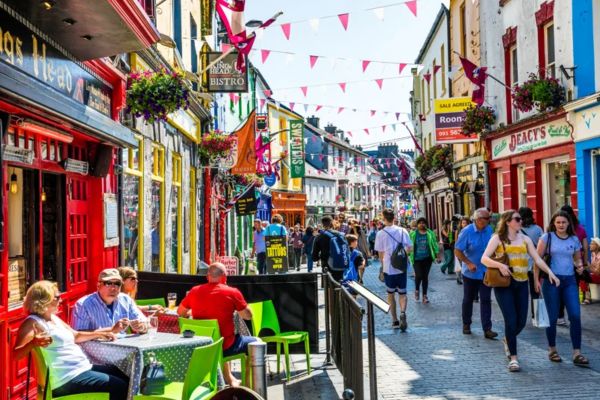 Bus Tours of Galway City Centre
One of the best ways to explore Galway city is by hopping on the CitySightseeing (big red) Bus, a popular tour that is owned and operated by the family-run business Lally Tours. The City Sightseeing tour takes you on a journey through the city's most iconic landmarks, including the Spanish Arch, Salthill Promenade, and Galway Cathedral. With its hop-on-hop-off feature, you have the freedom to explore the city at your own pace, jumping off at any stop and hopping back on whenever you're ready. This is an ideal way to get your bearings and learn about the city's history and culture before venturing out on your own. Tickets for City Sightseeing Bus can be booked online or purchased from the Eyre Square Kiosk, and departures are conveniently located at Eyre Square, right in the heart of the city.
What To Expect on a Trip To Galway City
Now that you know where to go and what to do, let's talk about what to expect in Galway. The city is a vibrant hub of music, culture, and entertainment. You'll find street performers on every corner, traditional Irish music in every pub, and a warm welcome wherever you go. The city center is small enough to explore on foot, but there's plenty to see and do. Visit the Spanish Arch, a 16th-century stone arch that once marked the city's western boundary. Stroll along the Salthill Promenade, a scenic walkway overlooking Galway Bay. And don't forget to sample some of the city's famous seafood, such as fresh oysters and mussels.
Checklist for Galway:
Water Proof Jacket.. for the occasional rain shower
Comfortable Shoes.. for exploring the medieval streets
Lots of Layers.. for keeping cosy
Sunscreen & Sunglasses.. for if and when the sun comes out
Power adapter.. for if you're coming from a different country, you'll need a power adapter to charge your electronic devices.
Euro.. for purchasing traditional Irish souvenirs. Most places accept both cash and card.
A camera or phone.. for capturing your memories
A sense of humour.. for interacting with the people of Galway. They're friendly and love to have a good time. Don't be afraid to join in the banter and have a laugh.
A sense of adventure.. for immersing yourself in Galway's lively atmosphere and vibrant culture.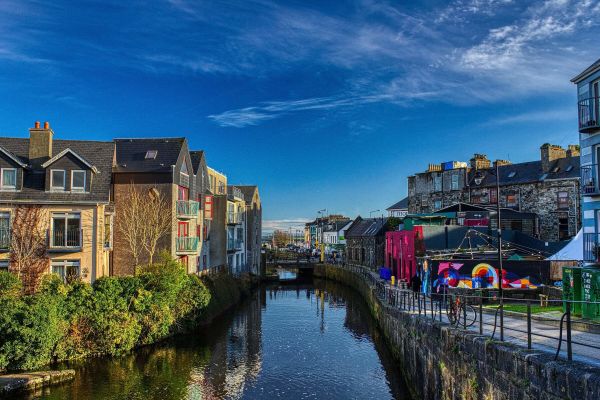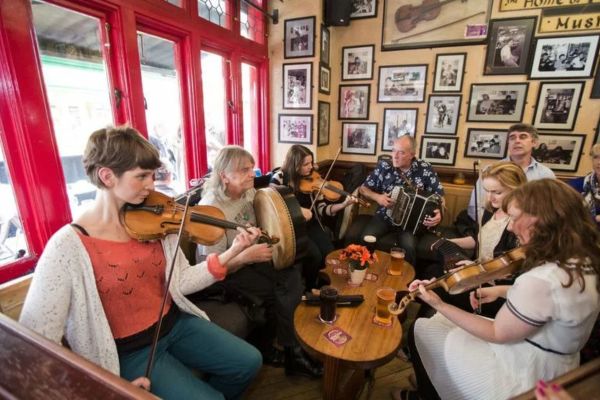 Why Should I Travel To Galway?
Without a doubt, a trip to Galway is a must-do for anyone visiting Ireland. With its lively atmosphere, stunning scenery, and rich culture, it's a city that will capture your heart. Just remember to pack for the weather, bring your appetite, and be prepared to have the time of your life. Whether you're exploring the city on foot, cycling along the coast, or sampling the local cuisine, Galway has something for everyone. And with the help of WeWheel Galway and Experience Galway, you can make the most of your time in this charming city.
So, what are you waiting for? Book your trip to Galway today and get ready for an unforgettable adventure. With its lively music scene, rich history, and breathtaking scenery, Galway is a city that will leave a lasting impression on you. Just don't forget to bring your layers, waterproof jacket, and sun cream – you never know what the weather will bring!