If there's one thing Galway has a lot of, apart from lovely people, beautiful buildings, an extensive history, cosy little pubs, great beaches, a decent hurling team… what was I saying again? Oh yeah, festivals; Galway has lots of festivals!
We've got festivals for comedy, international foods, crafts, films, oysters, traditional Irish music, to name but a few (basically, if you can
think of it, we probably have a festival for it).
Galway is widely known for its variety, quantity and frequency of festivals, with the city itself hosting over twenty festivals in any normal year. The city is renowned for its lively atmosphere and it's fair to say that these festivals contribute in part to the charm of the city and its people.
So to make sure you get the most out of your time in Galway, here is a list of some of the amazing festivals that Galway city, and county, are home to.
Spring 2022
St. Patrick's Day Festival Galway
The festival that needs no introduction; St. Patrick's Day Festival, which saw some 30,000 people in attendance in 2019. Although there is not a lot of information available for 2022 as of yet, this is one festival that locals and visitors alike are hoping will return after a two-year hiatus from the streets of Galway. The main event is of course the St. Patrick's Day Parade which will last for over an hour, with a variety of marching bands, montessori's, GAA clubs, theatrical troupes, local primary schools, international participants, etc. all taking part, along with an appearance from Galway's very own, very famous, Macnas. But of course, it is a festival, not just a single event. In previous years, there have been various music and dance events in Galway City taking place over the course of the festival with local musicians taking to the stage to entertain the masses and we're sure that the return of this festival will bring much of the same entertainment back to Galway again.
When: Expected to be the 13th to the 17th of March 2022
More info available at: https://www.facebook.com/paddysdaygalway/

Cúirt International Festival of Literature
Many acknowledge this festival as one of the longest running literary festivals in the whole of Europe, with the festival heading into its 37th year in 2022. A long standing feature in Galway's festival scene, the Cúirt International Festival of Literature gives a platform for writers, storytellers and readers alike to come together and celebrate their common interest; literature. The arrival of the pandemic certainly changed the way the festival was brought to audiences and gave rise to the opportunity for literary fans to tune in near and far, with the adaptation of Zoom and Youtube to host events. Here's hoping the 37th annual festival will make its way back to live venues again in 2022.
When: 4th to the 10th of April 2022
More info available at: https://www.cuirt.ie/

Clifden Traditional Music Festival
2022 is due to be the 12th annual Clifden Traditional Music Festival, which is a mighty festival for any fans of traditional Irish music, or fans of trad, as we would call them! You definitely don't have to be a fan of trad music to love this festival, because there is a great mixture of events, but it does help! With music workshops, live trad sessions, children's entertainment, a busking competition, a 5km run (because why not?), a tune composition competition and a great live outdoor gig on the Saturday night, what more could you ask for? Picture the Fleadh Cheoil and then imagine a smaller, even more intimate version of that, condensed into a charming seaside town on the west coast of Ireland. We're sure you'll all be busy practicing your party pieces for the sessions between now and then.
When: Expected to be April 2022
More info available at: https://www.facebook.com/ClifdenTradFest/

Galway Theatre Festival
Founded in 2008, the Galway Theatre Festival (GTF) is a festival not to be missed for fans of the arts. The festival normally takes place over 9 days, in a variety of excellent venues all around Galway City, with performers hailing from all over the country. With the GTF cancelled in 2020 and moved online in 2021, the gang at GTF will be eager to make their long anticipated return, one worth waiting for, and we certainly can't wait.
When: 29th of April to the 7th of May 2022
More info available at: https://galwaytheatrefestival.com/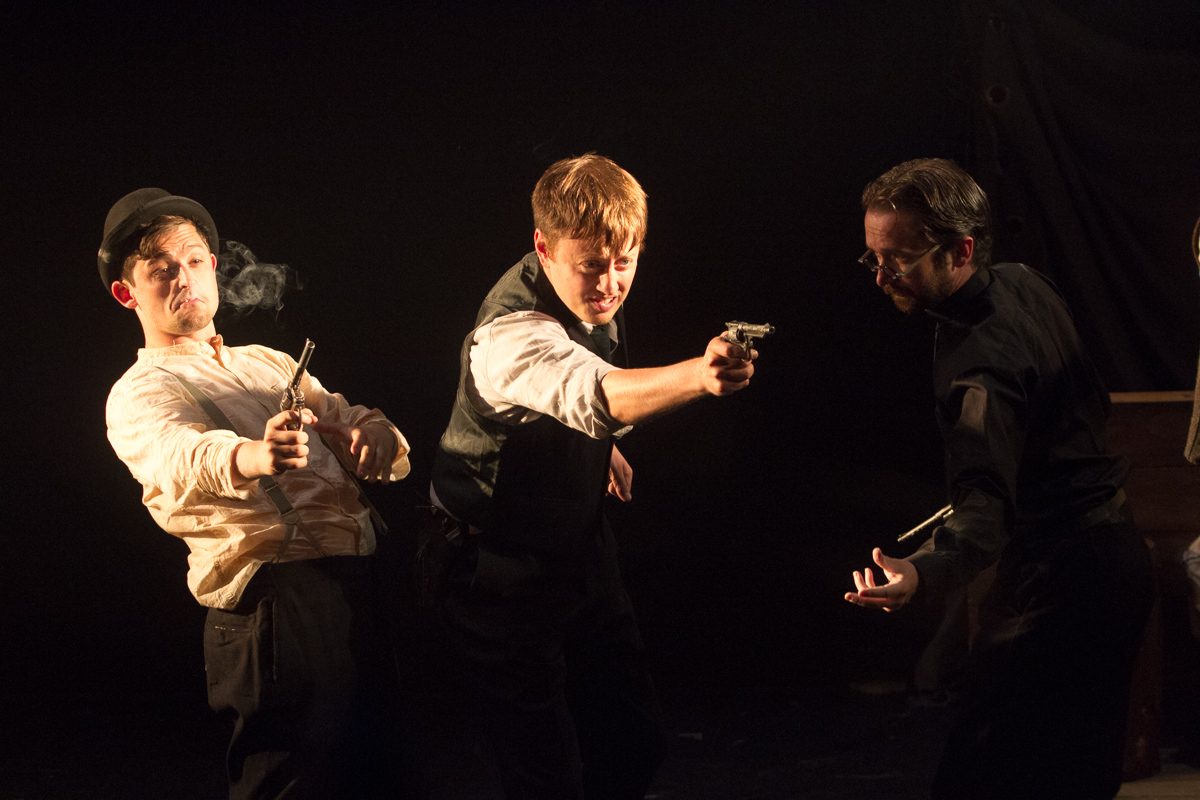 Connemara Mountain Walking Festival, Leenane
Look no further for your next great escape, this festival has got you covered. There are few better ways to spend your days than submerging yourself in the great outdoors and spending time with fantastic people, and what better place to do this than in our very own Connemara. Any eagle eyed readers will recognise Leenane as one of our stopping points on our Full Day Tours to Connemara from Galway and it is also home to this lovely little festival. A number of walks with experienced guides, catered to people of varying levels of ability, take place over the course of this festival. For this one you're going to need to have your hiking boots and waterproofs at the ready!
When: Expected to be either the May Bank Holiday weekend or October Bank Holiday weekend in 2022
More info available at: https://www.connemaramountainwalkingfestival.com/
Inishbofin Walking Festival
Dreaming of island life and looking to escape the rat race? Well look no further, because this festival gives you the chance to experience authentic island life in Ireland with the help of some expert guides. Meet the local people, walk your feet off, try birdwatching, go island hopping to the long uninhabited Inishark and learn about the history of the lovely Inishbofin. This may not be the most action-packed festival on this list, but what a great way to charge the batteries and return back to reality with your mind full of memories, your lungs filled with fresh sea air and your camera full of photos.
When: 20th to the 22nd of May
More info available at: https://www.facebook.com/events/1279073072615024
Galway Early Music Festival
Ideally situated in a city with notable medieval links and historical buildings and architecture, this festival allows you to take a step back through time and enjoy some medieval, renaissance and baroque music and dance. An array of concerts, workshops, demonstrations, exhibitions, talks, performances on the street and performers from near and far are hailed to Galway's medieval streets for this festival. Although classified as a music festival, this is definitely one to note if you're a history or a culture buff.
When: 27th to the 29th of May 2022
More info available at: https://galwayearlymusic.com/
Tour de Conamara Cycling Event
If you'd rather cycle than hike through Connemara, then this is the one for you. This festival is part of a series of cycling events hosted by ŠKODA called the Celtic Series and is among the largest cycling events on our island. The looped route options for cyclists which start from Clifden are between a 140km long route or an 80km long route, both of which wind and weave their way through the rugged, picturesque landscapes of Connemara. Though the cycle is the main event of the festival, there's usually other events going on too such as entertainment for all the family, food stalls, organised walks and a number of other biking events. Full details for 2022 have yet to be released so keep an eye on their socials for more information soon. Registration for participation in the Tour de Conamara opens on the 1st of January.
When: 28th of May
More info available at: https://tourdeconamara.ie/ and https://www.facebook.com/TourDeConamara/
Summer 2022
Galway Film Fleadh
First established in 1989, the Galway Film Fleadh is a festival that is not only deeply rooted in Galway's festival scene, but Ireland's too. Normally taking place over six jam-packed days in July, the Galway Film Fleadh is a treat for film lovers of all shapes and sizes! Whether it's an eye-opening documentary, the next big Irish film, a showing of an old Disney classic or an exciting, new international film, Galway Film Fleadh has it all, and more. This festival has shown it will not be stopped, with the 2020 festival carried out online and switching to outdoors in 2021; this is another festival geared up for a big return in 2022.
When: 5th to the 10th of July 2022
More info available at: https://www.galwayfilmfleadh.com/

Galway International Arts Festival
Easily regarded as Galway's most famous and most popular festival, the Galway International Arts Festival (GIAF) was first established over 40 years ago. Since then the festival has evolved into a world-renowned, annual, two-week long festival which showcases some of the finest artists, musicians and performers who hail from every corner of Ireland, and from all around the world. To give you an idea of the sheer size of the festival, the GIAF hosted a monumental 200 events, in a whopping 30 venues, which attracted over 250,000 people to the hallowed streets of Galway City, over two mighty weeks in July 2019. This is a festival not to be missed, with an impressive line up on sale for the Heineken Big Top already on sale here.
When: 11th to the 24th of July 2022.
More info available at: https://www.giaf.ie/

The Galway Races, Summer Festival
The sporting event of the year in Galway, the Galway Races Summer Festival is a week-long festival which takes place every year at the end of July. The festival, held behind closed doors in 2020, then proceeded with limited ticket numbers in 2021, will be well and truly ready to launch back into full festivities for 2022, all things going well. This is a day out which can be enjoyed by everyone whether you place a bet hoping that the luck of the Irish has rubbed off on you, get dressed up for Ladies Day or just sit back and soak up the atmosphere of Ireland's avid equestrian scene as horses race by. The atmosphere in the city during this week is electric, even if you don't venture out to Ballybrit, it's a fantastic week to experience Galway doing what it does best, playing host to visitors from near and far.
When: 25th to the 31st of July
More info available at: https://galwayraces.com/
Connemara Pony Festival, Clifden
The 2022 Connemara Pony Show will be the 97th annual event to take place in Clifden. This one is another great day out for all the family, after all what's a real summer in Ireland without some sort of agricultural show? If there's any equestrian fans reading, this may be the one for you. Not quite the same as the Galway Races Festival seen in the city, this festival is a bit more of a relaxed day out with ponies of various ages competing in different classes along with a competition for high jumping. There are several other events taking place over the course of the festival with a Dog Show, Irish Dancing and a display of domestic arts all taking place too, rounded off nicely with the Parade of Champions around the town itself.
When: 8th to the 12th of August 2022
More info available at: https://cpbs.ie/
Autumn 2022
Féile Cheoil Larry Reynolds
Another fantastic display of traditional Irish music and dance is celebrated at the Féile Cheoil Larry Reynolds, which takes place in Ballinasloe every September. This weekend boasts a wide range of events including workshops for instruments and dancing, exhibitions, a pub trail, a walking tour, a lecture, a céilí (with a céilí band!), traditional Irish music sessions, concerts, competitions and a family fun day. Traditional Irish music festival organisers know how to throw together a weekend full of ceol agus craic! Get the dancing shoes ready for this one.
When: 8th to the 11th of September 2022
More info available at: https://www.facebook.com/larryreynoldsirishmusicweekend/
Clarenbridge Oyster Festival
Although not yet confirmed to go ahead in 2022, if restrictions allow, it is very likely that this festival will make a triumphant return this year. Clarinbridge, a pretty little seaside village, prides itself in producing some of the best oysters in the world, due to their unusual surroundings. This festival is another fantastic display of the efforts and the consideration of rural Irish communities to play host to thousands of people and put together an unforgettable festival. The Clarenbridge Oyster Festival hosts several events, in conjunction with local clubs and charities, such as a set 5 course meal, a fashion show, an evening celebrating local heritage, a club fundraiser and of course, the black-tie Oyster Ball. Hopefully we will get an announcement soon about the return of this beloved oyster festival.
When: To be confirmed
More info available at: https://www.clarenbridge.com/ and https://www.facebook.com/clarenbridgeoysterfestival/
Clifden Arts Festival
Entering its 45th year in 2022, Clifden Arts Festival is a fantastic platform for Irish talent; whether they're musicians, storytellers, performers or exhibitionists, this festival is a stalwart for the Irish Arts, and has even been recognised as such by our president, Michael D. Higgins. This festival is a great one to really get stuck into Irish culture and experience a blend of the old and new with a great mixture of Irish household names and the new age of the arts in Ireland. Get yourself out of the city and submerge yourself in local community life less than 90 minutes drive from Galway city centre.
When: September 2022
More info available at: https://www.clifdenartsfestival.ie/
Galway International Oyster and Seafood Festival
This three-day long event is a must for any foodie fans out there, whether you're an oyster fan or not. The Galway International Oyster and Seafood Festival hosts various events over the course of this weekend with live music, great food (with vegan and vegetarian options available too!), intense competitions (resulting in a World Oyster Opening Champion), cooking demonstrations and children's entertainment guaranteed. Various Galway restaurants also take part in a seafood trail for those looking to get the full experience of Galway's seafood gastronomy.
When: 23rd to the 25th of September 2022
More info available at: https://www.galwayoysterfestival.com/
Ballinasloe International October Fair & Festival
In its hey-day, this festival was renowned as one of the biggest and best festivals in the whole continent, with nearly 120,000 animals sold at one memorable fair in the 1800s. Nowadays, you will still get a sense of the history, the community and the importance of the fair and festival to the people of Ballinasloe and to long-time visitors. With the festival celebrating its 300th anniversary in 2022, and after two years hiatus, the organisers of the festival will be keen to make a triumphant return in 2022 by continuing to showcase some of the finest horses on the Emerald Isle, by welcoming back a variety of vendors and their stalls, and by hosting several events over the course of the festival.
When: 2nd to the 9th of October 2022
More info available at: https://www.facebook.com/ballinasloe.fair/

Baboró International Arts Festival for Children
A strong family favourite amongst the festival programmes in Galway, Baboró will be launching its 26th festival in October 2022. The festival adapted well to the effects of the pandemic in 2021, having opted to host several events online and outdoors where possible, creating a safe environment for people to enjoy the festivities. Baboró gives kids of all ages the chance to explore and take part in a variety of arts and cultural events such as interactive exhibitions, workshops, storytelling, music performances, and many more. Make sure to keep an eye on their website for more details as plans are put in place for October.
When: 14th to the 23rd of October 2022
More info available at: https://www.baboro.ie/
Galway Comedy Festival
Currently named as Europe's biggest comedy festival, Galway Comedy Festival runs for a full week at the end of October. This festival first began in 2006 and has since grown into one of the largest, and most popular festivals, that Galway has, boasting impressive programmes which have included some of the biggest and best names in comedy. In this unprecedented, quieter-than-usual year alone, there were 45 shows in a number of venues in the city centre, with one of our very own open top buses even featuring as a venue!
When: 25th to the 31st of October 2022.
More info available at: https://www.galwaycomedyfestival.ie/
Festival dates are accurate as of: 13/01/22