If there's one thing Galway has a lot of, apart from lovely people, beautiful buildings, an extensive history, cosy little pubs, great beaches, a decent hurling team… what was I saying again? Oh yeah, festivals; Galway has lots of festivals!
We've got festivals for comedy, international foods, crafts, films, oysters, traditional Irish music, to name but a few (basically, if you can
think of it, we probably have a festival for it).
Galway is widely known for its variety, quantity and frequency of festivals, with the city itself hosting over twenty festivals in any normal year. The city is renowned for its lively atmosphere and it's fair to say that these festivals contribute in part to the charm of the city and its people.
So to make sure you get the most out of your time in Galway, here is a list of some of the amazing festivals that Galway city, and county, are home to.
Autumn 2022
Féile Cheoil Larry Reynolds
Another fantastic display of traditional Irish music and dance is celebrated at the Féile Cheoil Larry Reynolds, which takes place in Ballinasloe every September. This weekend boasts a wide range of events including workshops for instruments and dancing, exhibitions, a pub trail, a walking tour, a lecture, a céilí (with a céilí band!), traditional Irish music sessions, concerts, competitions and a family fun day. Traditional Irish music festival organisers know how to throw together a weekend full of ceol agus craic! Get the dancing shoes ready for this one.
When: 8th to the 11th of September 2022
More info available at: https://www.facebook.com/larryreynoldsirishmusicweekend/
Clarenbridge Oyster Festival
Although not yet confirmed to go ahead in 2022, if restrictions allow, it is very likely that this festival will make a triumphant return this year. Clarinbridge, a pretty little seaside village, prides itself in producing some of the best oysters in the world, due to their unusual surroundings. This festival is another fantastic display of the efforts and the consideration of rural Irish communities to play host to thousands of people and put together an unforgettable festival. The Clarenbridge Oyster Festival hosts several events, in conjunction with local clubs and charities, such as a set 5 course meal, a fashion show, an evening celebrating local heritage, a club fundraiser and of course, the black-tie Oyster Ball. Hopefully we will get an announcement soon about the return of this beloved oyster festival.
When: To be confirmed
More info available at: https://www.clarenbridge.com/ and https://www.facebook.com/clarenbridgeoysterfestival/
Clifden Arts Festival
Entering its 45th year in 2022, Clifden Arts Festival is a fantastic platform for Irish talent; whether they're musicians, storytellers, performers or exhibitionists, this festival is a stalwart for the Irish Arts, and has even been recognised as such by our president, Michael D. Higgins. This festival is a great one to really get stuck into Irish culture and experience a blend of the old and new with a great mixture of Irish household names and the new age of the arts in Ireland. Get yourself out of the city and submerge yourself in local community life less than 90 minutes drive from Galway city centre.
When: 15th-25th of September 2022
More info available at: https://www.clifdenartsfestival.ie/
Galway International Oyster and Seafood Festival
This three-day long event is a must for any foodie fans out there, whether you're an oyster fan or not. The Galway International Oyster and Seafood Festival hosts various events over the course of this weekend with live music, great food (with vegan and vegetarian options available too!), intense competitions (resulting in a World Oyster Opening Champion), cooking demonstrations and children's entertainment guaranteed. Various Galway restaurants also take part in a seafood trail for those looking to get the full experience of Galway's seafood gastronomy.
When: 23rd to the 25th of September 2022
More info available at: https://www.galwayoysterfestival.com/
Ballinasloe International October Fair & Festival
In its hey-day, this festival was renowned as one of the biggest and best festivals in the whole continent, with nearly 120,000 animals sold at one memorable fair in the 1800s. Nowadays, you will still get a sense of the history, the community and the importance of the fair and festival to the people of Ballinasloe and to long-time visitors. With the festival celebrating its 300th anniversary in 2022, and after two years hiatus, the organisers of the festival will be keen to make a triumphant return in 2022 by continuing to showcase some of the finest horses on the Emerald Isle, by welcoming back a variety of vendors and their stalls, and by hosting several events over the course of the festival.
When: 2nd to the 9th of October 2022
More info available at: https://www.facebook.com/ballinasloe.fair/
Baboró International Arts Festival for Children
A strong family favourite amongst the festival programmes in Galway, Baboró will be launching its 26th festival in October 2022. The festival adapted well to the effects of the pandemic in 2021, having opted to host several events online and outdoors where possible, creating a safe environment for people to enjoy the festivities. Baboró gives kids of all ages the chance to explore and take part in a variety of arts and cultural events such as interactive exhibitions, workshops, storytelling, music performances, and many more. Make sure to keep an eye on their website for more details as plans are put in place for October.
When: 14th to the 23rd of October 2022
More info available at: https://www.baboro.ie/
Galway Docklands Festival
A brand new Galway festival, brought to you by Galway Hooker Sailing Club, along with Galway Bay Boat Tours and Galway Bay Seafoods, is coming to Galway City this October and it is fantastic to see some new festivals coming onto the scene! This festival has been created to celebrate Galways long-standing relationship with both the docks and the sea, offering water activities, guided walks, and, of course, opportunities to enjoy some of the great seafood which is brought into the docks daily, along with lots more.
All proceeds from the festival are going to two well-deserving organisations - Galway RNLI (Royal National Lifeboat Institution - for those of you who are unfamiliar with RNLI) and LAST (Lost At Sea Tragedies).
When: 21st, 22nd and 23rd of October 2022
More info available at: https://www.galwayhookersailingclub.ie/docklands-festival


Galway Comedy Festival
Currently named as Europe's biggest comedy festival, Galway Comedy Festival runs for a full week at the end of October. This festival first began in 2006 and has since grown into one of the largest, and most popular festivals, that Galway has, boasting impressive programmes which have included some of the biggest and best names in comedy. In this unprecedented, quieter-than-usual year alone, there were 45 shows in a number of venues in the city centre, with one of our very own open top buses even featuring as a venue!
When: 25th to the 31st of October 2022.
More info available at: https://www.galwaycomedyfestival.ie/
The Galway Christmas Market
No trip to Galway this time of year is complete without donning the cosy hat and scarf to take a stroll through Galway's Christmas Market. From the smell of Chimney Cake to the sound of Christmas Carols in the air, it's the perfect Wild Atlantic Winter Wonderland to explore.
Grab a stein of beer in the Oktoberfest Style Beer Hall, sample some of the many local and international winter delicacies or pick up the ideal stocking filler for that special someone. Whatever you do, a trip to Galway's Christmas Market is not to be missed this month.

When: 11th of November to the 22nd of December
More info available at: https://www.facebook.com/ChristmasMarketGalway/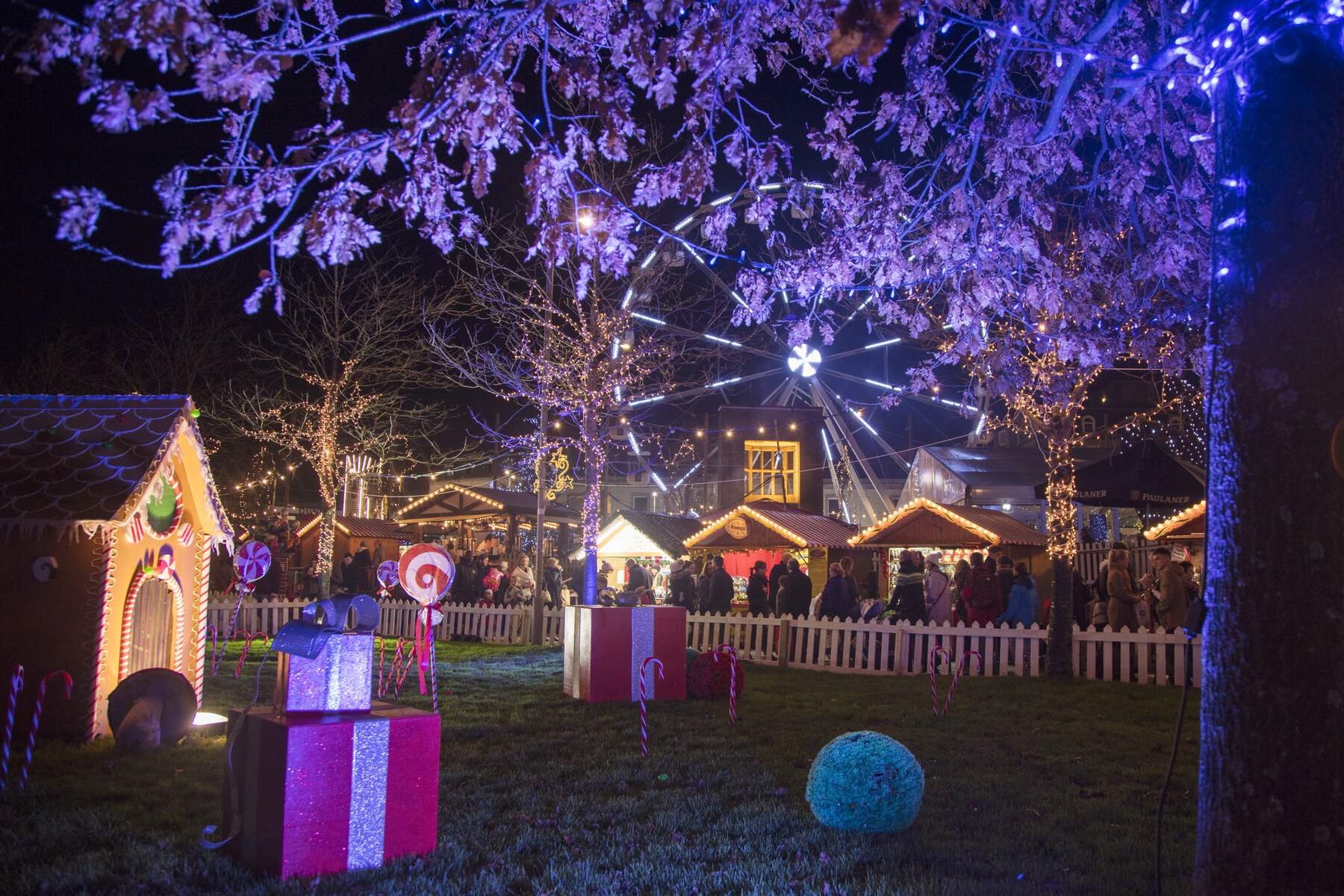 Festival dates are accurate as of: 09/10/22