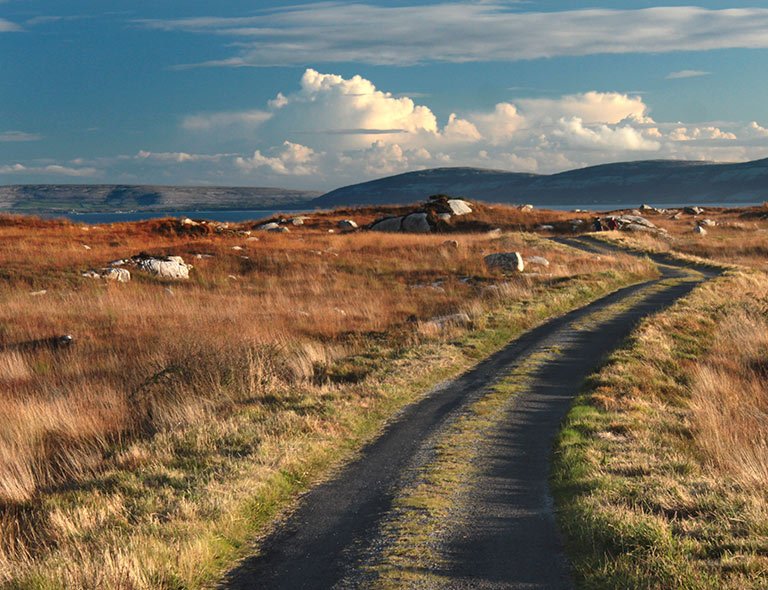 Where it all began
Lally Tours is a small, family owned and operated tour company located in Galway, at the heart of Ireland's Wild Atlantic Way. We've been happily showcasing the west of Ireland to guests from all over the world since the mid-1980's, and pride ourselves on providing top-class, personable and memorable experiences that are open and available for all to enjoy.
Early days
Looking back to the mid-1980's Bríd & Martin Lally needed a minibus to get their ever-growing family from school to football training, from school principals offices to doctors appointments and from home to France (via ferry) for their annual end-of-summer holidays. This first minibus would have been parked outside of their pub in Connemara, and the family lived upstairs - in the pub, not the bus.
Musicians, regulars to the pub and the football teams often requested the services of this minibus and Bríd & Martin are rarely ones to say no, especially when someone's in need. These first few favors quickly developed into more profit-making uses such as bringing bands on tour around the country, or bringing groups to the airport etc. Before long, tourists would come knocking on the door, looking for a break from driving their rental car "on the wrong side of the road".
Often-times these visitors to our western shores just wanted someone local to show them around, bring them to the hidden gems, share stories and have a meaningful conversation about why this part of the world is the way it is and why the people are the way they are. Whether guests were continuing north into Mayo, Sligo and Donegal or south to Clare, Limerick, Kerry and Cork, advice was always shared, sometimes with warnings and always with a "see you again soon!" being called out. That initial solitary transit minibus was quickly updated, and the fleet began to expand slowly but very surely.
Since then, Lally Tours firmly planted its roots into the west of Ireland and focussed on delivering that same genuine, welcoming that unique hospitable experience that Ireland is known for all over the world.
These experiences are realised in what is now a large range of tours and services spanning from Hop-On Hop-Off City Tours of Galway City and guided tours of the Cliffs of Moher and Connemara to fully inclusive package tours of Ireland. In fact, we're proud to offer the largest range of tours and experiences in the west of Ireland.
Moving forward
The company is now being led by Máirtín Óg Lally, the second youngest of Bríd & Martins seven children. Máirtín Óg (Martin Junior in Irish) has a fantastic and tight team of drivers, mechanics, travel coordinators and back-office admin who are all incredibly proud to hail from the west of Ireland.
While wholeheartedly committed to upkeep the strong reputation that Lally Tours has built over the years, we also endeavour to continuously develop and improve our experiences, keep pushing the limits and always keeping the eyes open for newer and better ways to explore the West of Ireland.